WLW #104
Ep. 15 – Planning The Rest Of 2023 For My Business (Part 1)
In this episode, I cover: ​

How I plan my year in 3 sections using my "Sprint" Method (and how you can apply it to your business)
How much earned from January – October in this business
Why I'm stopping newsletter sponsorships, affiliate marketing, most coaching, and most brand deals, and what I'm doubling down on instead
---
🛍️ 1. Why I'm Not Running Ads In WLW Anymore – This Week's Podcast
Over the last 100 issues of WLW, I've had the pleasure to work with a bunch of great sponsors, including a ton of brands I use every day.
So what's the deal?
When you're running a business in 20 hours a week, you have to do what moves the needle, and be willing to drop what doesn't.
As a result, I'm stopping:
📰 Newsletter sponsorships
🛍️ Affiliate marketing
📞 Most 1:1 coaching
🛒 Brand deals under $10k
For the foreseeable future.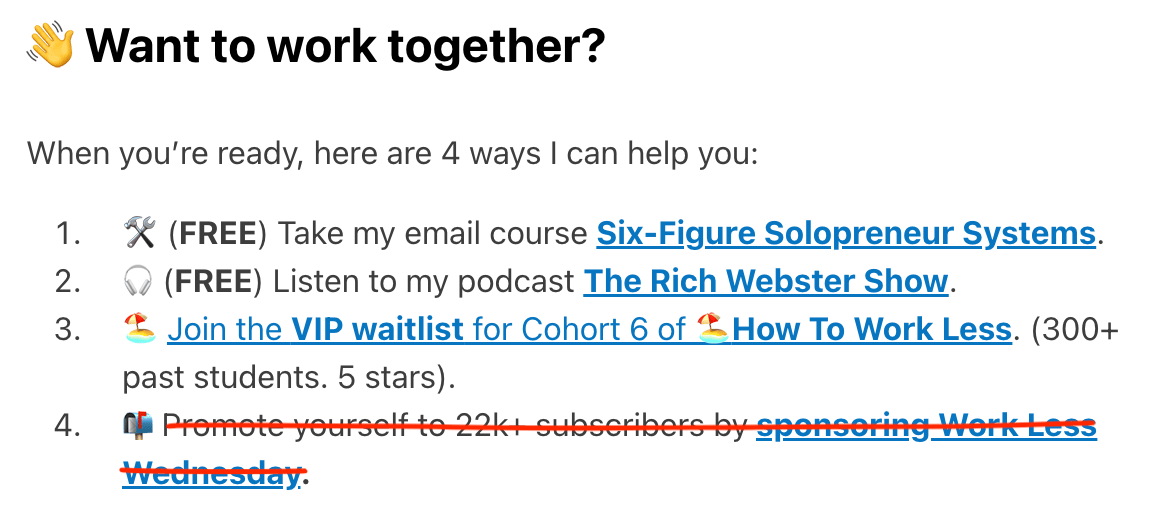 Closed for business.
Here's why…
As a business owner, everything you do costs energy, focus, and time.
But some things return SIGNIFICANTLY more value in exchange for those inputs.
As part of my "Sprint 3" business planning, I did an 80/20 Audit of my education business.
I found that 83% of my 2023 revenue to date comes from my course 🏖️How To Work Less.
💪 1:1 Coaching: 3%
🗞️ WLW Ads: 1%
🛍️ Affiliate: 1%
🎁 Brand Deals: 12% (BUT 10% came from just TWO brands)
If you we're running my business where would you spend your time?
While newsletter ads are "passive" and "leveraged" income, they have an opportunity cost: my time and focus.
That's why I'm out.
The formula I follow is simple:
Identify what creates results.
Do more of it.
Do less of everything else.
If you want more details, this week's podcast episode is Part 1 of a series detailing how I'm planning the next 3 months of my business.
---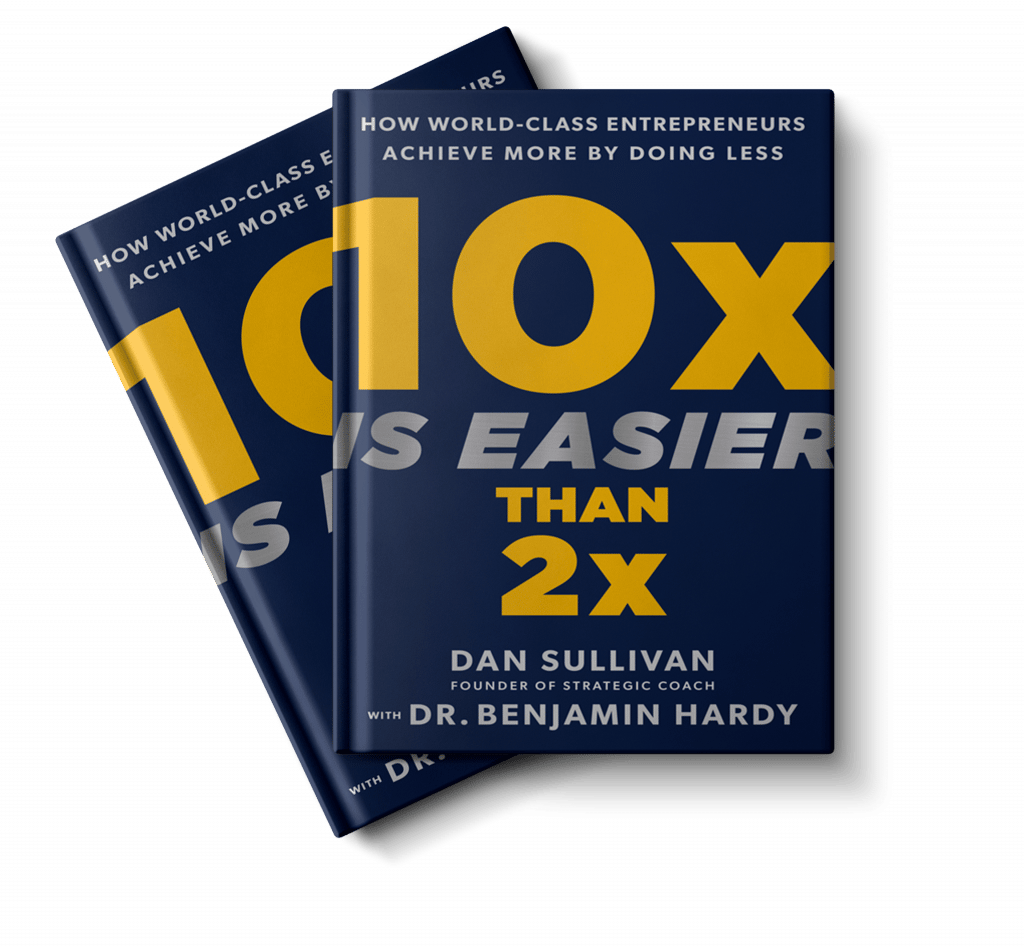 I have no idea who told me about this book, but it is AWESOME.
You all know I love the 80/20 Principle.
I teach an entire lesson on it in How To Work Less.
This book teaches a simple, but powerful application of 80/20:
When we set goals, we usually aim to double (2X) our outcomes.
The problem with this approach?
When we set a small (2X) goal, we don't make big changes.
Think about it:
Most people try to accomplish a 2X goal by just working 2X as hard.
If you were to, instead, set a goal to 10X your outcomes, the process is completely different.
Almost NOTHING you're doing now will get you to 10X.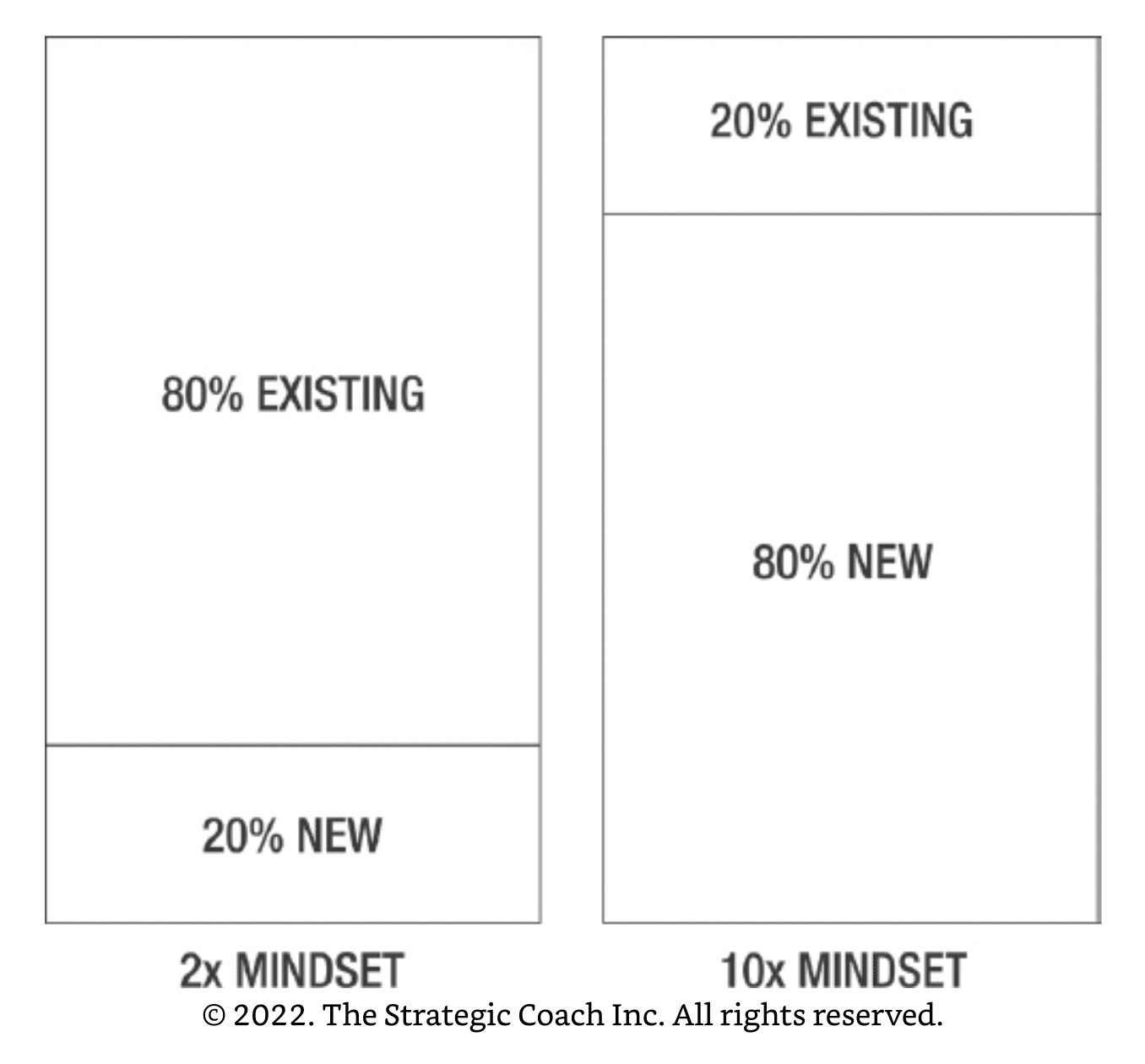 You'd have to discard 80% of what you're doing now, and focus ruthlessly on improving the 20% that really moves the needle.
Paradoxically, it is easier to achieve a 10X goal than a 2X goal, because a 10X goal forces you the change completely.
Rather than focus on the present and the past, you must focus on your desired future, and then work backwards to reach that goal.
---
👀 3. 7 Psychological Strategies To Get 34 Billion Views – Reddit Thread
This week, a dedicated Reddit user gave us a peek behind the curtain of the psychological tactics Mr. Beast uses to go viral.
In his words "MrBeast's near-academic understanding of audience psychology is the key to his success."
Here are 7 strategies Mr. Beast is using to trick you into clicking his content, and sticking around (that you can use in your own life).
👀 1. Novelty Effect
MrBeast Headline: "I Put 100 Million Orbeez In My Friend's Backyard"
MrBeast often presents something so out of the ordinary that they have no choice but to click and find out more.
💰 2. Costly Signaling
MrBeast Headline: "Last To Leave $800,000 Island Keeps It"
Costly signaling is all amount showcasing what you've invested into the content.
The higher the stakes, the more valuable the content will seem.
💯 3. Numerical Precision
MrBeast Headline: "Going Through The Same Drive Thru 1,000 Times"
Precise numbers are tangible.
They catch our eye, pique our curiosity, and add a sense of authenticity.
☯️ 4. Contrast
MrBeast Headline: "$1 vs $1,000,000 Hotel Room!"
Our brains are drawn to stark contrasts and MrBeast knows it.
🥰 5. Nostalgia
MrBeast Headline: "I Built Willy Wonka's Chocolate Factory!"
Nostalgia is a longing for the past that cn provide emotional comfort, identity reinforcement, and even social connection.
☠️ 6. Morbid Curiosity
MrBeast Headline: "Surviving 24 Hours Straight In The Bermuda Triangle"
Morbid curiosity explains why you're drawn to situations that are disturbing, frightening, or gruesome.
⏰ 7. FOMO And Urgency
MrBeast Headline: "Last To Leave $800,000 Island Keeps It"
MrBeast's time-sensitive challenge, exclusive opportunities, and high-stakes competitions all generate a sense of urgency.
🧐 Isn't this all just clickbait?
Well, you'll have to read the whole post to find out.
(See what I did there?)
If you sell ANYTHING, you'll learn something from this.
---
​Loved this post from @safalniveshak on Twitter: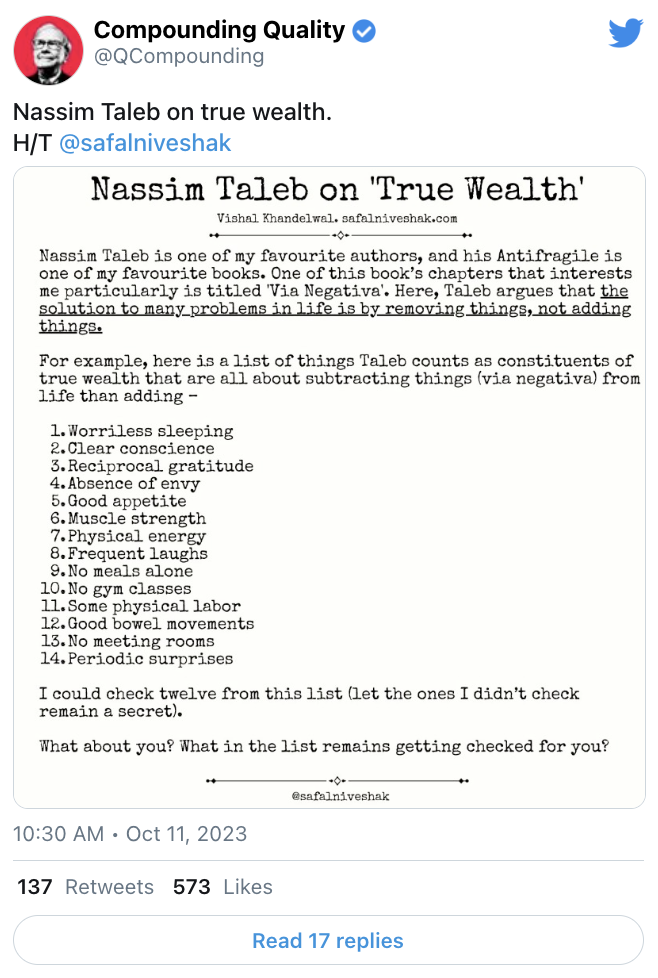 ---
✍️ 5. Work With Me: I'm Hiring A Digital Writer
I'm looking to hire someone to help write content for my social media.
What I'm looking for:
Every week, repurpose insights from my weekly podcast into:
1 thread-style Instagram post (example)
5-10 tweets
Must have:
Proven experience writing high-performing content for social media
Familiarity with my work
Some things to consider:
This should be written in MY VOICE. I expect you to be familiar with my writing style and emulate it. There are tons of examples at instagram.com/richwebz.
No grammar errors. This is very important. I don't want to have to spend time editing your work.
No AI. I need a skilled writer that can distill the insights from my podcast into high quality writing. If I wanted to use AI, I could do it myself.
We're focused on performance here. I'm looking for content that performs and resonates with my audience. That means a strong focus on hooks that engage the reader to click and consume.
Email me [email protected] if you think you're a fit.
Please include your rates, examples, and availability in the email.
I will only reply if I want to move forward with a test project.
Subscribe To Work Less Wednesday