WLW #57
Tim Ferriss called it the best marketing book of all time.
It's a great read.
But be warned, it was written in 1994.
Many references are very outdated.
Still, many lessons are timeless.
Here are my top 5 takeaways from "The 22 Immutable Laws of Marketing":
🧠 Law 4 – The Law of Perception
Marketing is not a battle of products, it's a battle of perception.
The biggest myth of marketing: The best product always wins.
The truth: The most known brand wins.
In marketing, for better or for worse, facts don't matter.
🎯 Law 5 – The Law of Focus
The most powerful concept in marketing is owning a word in the prospect's mind.
If you can be associated with one word (or idea) in your customer's mind, you'll be set.
If you couldn't tell, I'm aiming for "Work Less." 😜
🤹 Law 12 – The Law of Line Extension
There's an irresistible pressure to extend the equity of the brand.
Line extension involves taking the brand name of a successful product and putting it on a new product you plan to introduce.
Some examples:
New Coke.
A1 Poultry Sauce. (Google it)
Coors Water.
You'll notice one thing they have in common: they failed.
Line extension dilutes the brand and hardly ever works.
You can't be all things to all people.
😅 Law 15 – The Law of Candor
When you admit a negative, the prospect will give you a positive.
Every negative statement you make about yourself is instantly accepted as truth.
When you make fun of yourself, or acknowledge a shortcoming, it builds trust.
Do it.
📰 Law 20 – The Law of Hype
A situation is often the opposite of the way it appears in the press.
When things are going well, a company doesn't need the hype.
When you need the hype it usually means you're in trouble.
---
This is a photo of me sitting on a plane.
2 hours later, I gave up on that book.
Which brings me to this lesson:
You don't have to finish a book if you're not enjoying it.
I wanted to like "Your Next Five Moves."
It was recommended by someone I trust.
But it was bad.
After a few chapters, here's what I shared with my friend Jamie in a DM: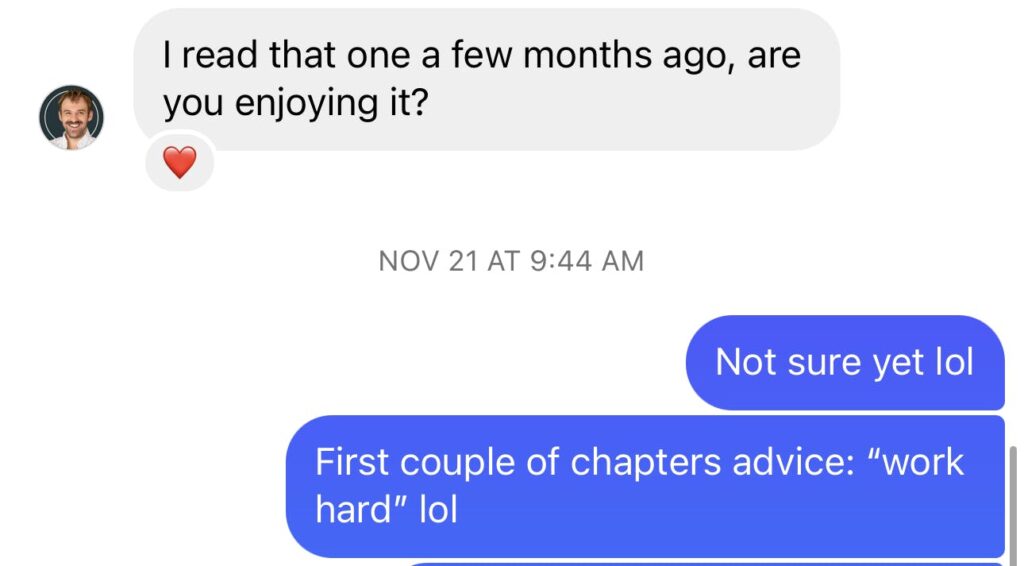 I proceeded to read on a few more chapters, and wasn't impressed.
Each chapter felt like it was just a summary of another already popular business book.
So I stopped.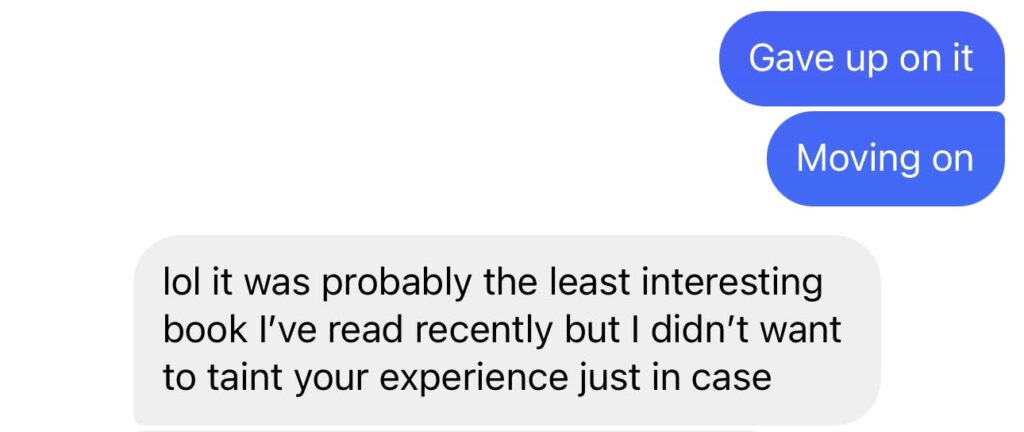 To be clear, there's no such thing as a "good" book…
There's a "good" book FOR YOU.
Either way, remember this:
It's OK to stop reading a book that isn't good for you.
---
🪝 3. Write Better Hooks – Tribescaler
f you're trying to grow on social media, the hook is everything.
You've got 2 seconds to stop the scroll.
That's why I recommend you spend 10x as much time on the hook as your content.
I'm experimenting with a new tool called Tribescaler which could help.
One of my coaching clients, Valentin Tambosi, shared it with me in our session, and I had to pass it on.
Tribescaler helps you write better hooks in seconds.
Simply input some keywords, and it will generate tons of viral hooks for you in seconds.
Let me know what you think! (not an ad)
---
🫀 4. This Guy Reduced His Age By 5.1 Years In 7 Months… Here's How – Bryan Johnson's Blueprint
PayPal founder Bryan Johnson has been obsessed with anti-aging for the last few years.
He went all-in on an experiment to see if he could reduce his epigenetic age.
He decreased it 5.1 years in 7 months.
Some highlights of what he did:
Eating a daily dish called the "Super Veggie" (on his diet you eat over 70+ lbs of veggies a month)
Taking over 35 different supplements
A 20 step exercise routine
I found the entire experiment fascinating.
---
🏖️ 5. How To Work Less Cohort 3 Enrollment Begins Jan. 2! – Join The VIP Waitlist
Just a quick reminder that Cohort 3 of my course "How To Work Less" will be kicking off again in early January.
I hope you'll plan to join me.
There's no better time to commit to a big change than during the New Year.
Curious? Here's what happened in Cohort 2:
In September, 63 amazing solopreneurs took part in a four-week experience to transform their busy businesses into a profitable lifestyle business.
Here's what they had to say about it:
"It is the best course I have taken in a long time."
"I am obsessed with How to Work Less. How to Work Less is more useful than my college business classes were, and is one of the rare online courses I followed through on, from start to finish."
"I saw near instant results in my business after implementing Rich's techniques."
"This course has overdelivered value 10x of it's price (you could easily charge 10k for the value you get). Any entrepreneur who wants to build a lifestyle business should take this course!!!"
"Best course investment I've made this year."
Not to mention, DURING this cohort my students had these results:
One student increased their overall profits by 50%.
Another student increased prices by 40%, while outsourcing all production.
And three others closed projects for $40,000, $30,000, and $30,000 (their highest rates ever!)
If you're self-employed and want to transform your business, I would love to have you in Cohort 3 – Click here to join the VIP Waitlist.
Subscribe To Work Less Wednesday