WLW #59
I turned 33 on Monday. 🥳
In honor of the occasion, I spent some time reflecting on some lessons I've learned over the years.
They're roughly grouped into 4 categories: Health, Wealth, Work, Happiness
I hope you enjoy:
---
😌 2. Don't Optimize Your Downtime – Article By Hulry
As we're coming to the end of the year, I thought this article was appropriate to share.
If you consider yourself a productivity nerd, you're probably guilty of this bad habit:
Trying to optimize every moment for usefulness.
Here's an example:
Ten minutes into enjoying some music or sitting on the balcony doing nothing and my mind goes to: "Should I be reading a book or coming up with blog post ideas instead of doing this?"
For many, taking time off and doing nothing productive makes us feel guilty.
But, here's the funny thing:
Optimizing downtime doesn't make us more productive either.
It leads to this… (h/t @thetinywisdom)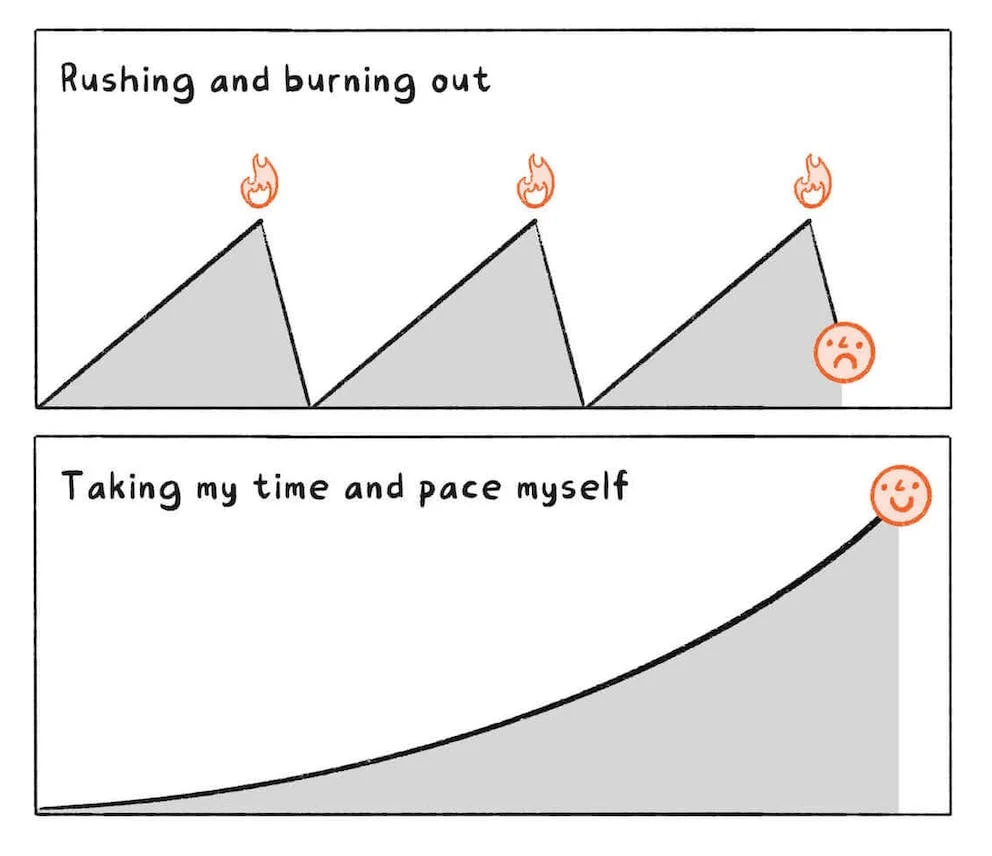 Here are a few things you can try:
Go on a walk and don't listen to a podcast or audiobook.
Don't read nonfiction or business books when you're winding down for bed.
Realize "wasting time" is actually a good thing.
Schedule your downtime and enjoy it.
Take some real time off for the holidays. Work will be there when you get back.
That's why I always say: Self care is productive.
---
📱 3. How To Decrease Your Social Media Use By 57% – one sec
​This app was shared with me by a reader and I'm very intrigued.
The premise is simple:
One sec forces you to take a deep breath whenever you open social media apps.
It's simple and effective:
Added friction makes distracting apps less appealing.
What's really wild:
App usage drops by 57% on average. (This is backed up by a study from the Max Planck Institute and University of Heidelberg.)
It also has a ton of interesting different options to help you break the pattern around unconsicious phone use.
You can pick from:
Breathing exercise – Forces you to take a deep breath before opening the target app.
Follow the dot – Follow the dot with your finger for 10 seconds to unlock the target app.
Black screen – Your screen turns black for 10 seconds before allowing you to continue to the target app.
Rotate phone – Rotate your phone three times around its axis to unlock the target app.
And this last one is BRUTAL:
Mirror – Look in your own eyes and tell yourself that you really want to open that app right now.
​Check it out and let me know what you think! (not an ad).
---
I know what you're thinking…
An adult playing with LEGOs?! 🤨
But hear me out.
If you haven't tried it, you're missing out.
Let me sell you on it:
These sets are designed for adults. Think of it more like a puzzle than a toy.
It is meditative, relaxing, stimulating, and just plain fun.
They have options for all interests: Design, Sports, Architecture, Video Games, Star Wars, Vehicles, and more.
My wife picked up the LEGO Great Pyramid of Giza for my bday.
At 1,476 pieces, it's going to be a great build.
I'll be sure to post the finished product on my IG Stories.
Also – These are a great unexpected holiday gift. Just sayin.'
---
🏖️ 5. Reminder: How To Work Less Cohort 3 Opens In 3 Weeks! – Join The VIP Waitlist
There's a lot going on this holiday season and I want to remind you that on January 2, enrollment for Cohort 3 of 🏖How To Work Less opens!
🏖How To Work Less is my signature 4 week LIVE course designed for those who are self-employed or have a side hustle, who want to:
Own a profitable lifestyle business
Scale their business while working less hours
Take back their time and finally start making massive progress on their goals
In just 4 weeks, you'll:
🤑 Finally raise your prices to where they need to be
🛠 Create the "systems" for your business you hear everyone talking about, but have no idea how to implement
👤 Hire your 1st or next assistant or freelancer
🤝 Spend 50% less time talking to clients and in meetings
😌 Banish burnout for good
🏖 Get work done faster, better, and with more profit
If that sounds like you, do yourself a favor and join my VIP Waitlist.
You'll have access to Early Enrollment & our best discount of up to 30% off.
More information coming soon!
Subscribe To Work Less Wednesday