WLW #66
This week's issue of Work Less Wednesday is sponsored by:
​Tweethunter: Write better tweets 10x faster.
Ever wonder why some people can consistently go viral, while others never do? Tweethunter is the secret. I personally use it to get content inspiration, write faster, schedule posts, and much more. Their 3m+ viral tweets library is literally a goldmine.
---
Rick Rubin is one of the most famous music producers of all time.
He's worked with the Beastie Boys, Metallica, Lady Gaga, The Red Hot Chili Peppers, Johnny Cash & hundreds more.
Despite this, he says "I have no technical ability and know nothing about music​."
So why do people pay him millions?
His answer: "I know what I like and what I don't like and I'm decisive about what I like and don't like."
Rick's timeless insights on the creative process are front and center in his new book, The Creative Act.
The Creative Act isn't a book you read.
It's a book you absorb.
At over 400 pages, it's written more like a spiritual text than a nonfiction book.
I've been picking it up every few days and marinating on the lessons.
Here are some quotes I've enjoyed:
"In terms of priority, inspiration comes first. You come next. The audience comes last."
"If you have an idea you're excited about and you don't bring it to life, it's not uncommon for the idea to find its voice through another maker. This isn't because the other artist stole your idea, but because the idea's time has come."
"Look for what you notice but no one else sees."
P.S. If you want to hear Rick talk more about the book and the creative process, I recommend this interview with Tim Ferriss: https://tim.blog/2023/01/12/rick-rubin-2/​
P.P.S. This clip with him and Anderson Cooper is hilarious: https://www.instagram.com/p/Cnjleioh4JS/
---
📐 2. 3 Life Lessons From Frank Lloyd Wright
My wife and I have been on a Ken Burns documentary kick.
We picked up a PBS Documentaries subscription for $3.99/mo on Prime that has them all.
Our favorite has been the two-part series on Frank Lloyd Wright.
If you're not familiar, Frank Lloyd Wright is widely considered the greatest American architect of all time.
Over his wild 70 year career, he designed over 1,000 structures.
His most famous works include Fallingwater, The Imperial Hotel, and the Guggenheim Museum.
The whole documentary is fascinating, but I pulled out three lessons from FLW's life I thought were worth sharing.
Lesson 1 – Don't Bill By The Hour (Especially If You Procrastinate)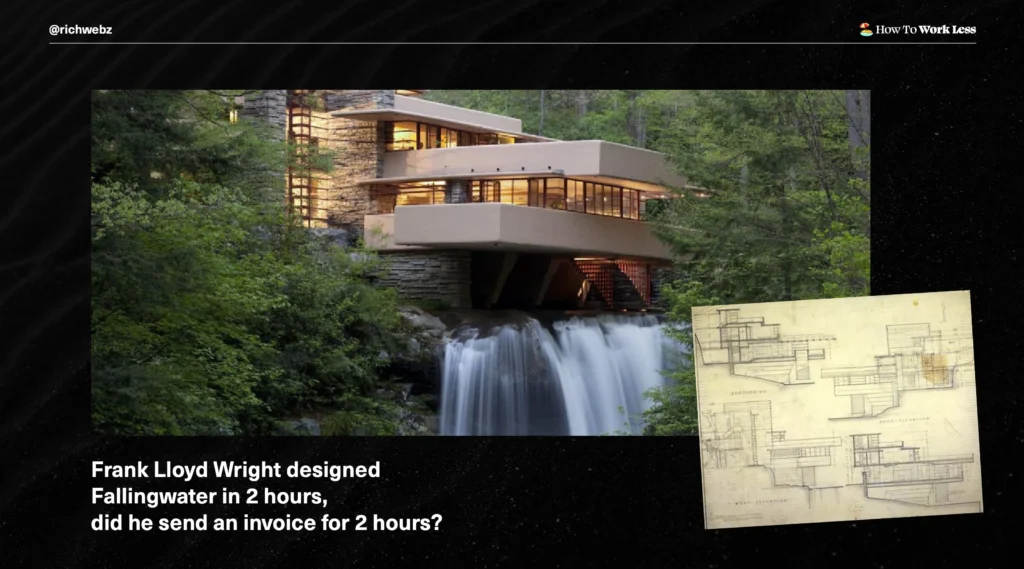 Frank Lloyd Wright designed his most iconic home, Fallingwater, in under two hours.
As the story goes, Wright signed a deal with the owner of the land to design a home.
9 months passed where he was supposed to be working on the design.
Then one day, Wright received a surprise call from the owner – they were in town and are coming to see the progress.
In the two hours it took the owner to arrive, Wright designed the most iconic private home of all time.
What's the lesson here?
Set a deadline if you're procrastinating.
Don't bill by the hour – If Wright billed by the hour, he would have gotten paid for just two hours of work his masterpiece.
Lesson 2 – You Can Never Be Too Confident (I Guess?)
Frank Lloyd Wright's level of self confidence bordered on delusion.
But this confidence got him a lot of prestigious work.
I'm not going to sugarcoat it – Wright lied a lot during his career.
A lot.
Early on he took credit for the work of his employer in order to get his solo gigs.
When Wright was called into court one day, he identified himself as the world's greatest architect.
Asked how he could make such a statement, Wright said he had no choice: He was under oath. 😂
Lesson 3 – It's Never Too Late
Frank Lloyd Wright had a long career.
By the time the 1930s came around, many felt he was washed up.
He reached massive success early on, but by the time he was 50, he was begging for a commission for his next project.
He was often broke.
But he didn't stop.
In 1936, Wright staged a remarkable comeback that he rode for the rest of his career.
In the nine years before his death in 1959 at age 91, Wright designed nearly a third of the 1,100 buildings he produced during his career.
Remember: No matter how old you are, you aren't close to done.
---
Dakota Robertson (@wrongstowrite) is a professional ghostwriter (this is his company).
Businesses and influencers hire him to write tweets that go viral and amass an audience.
And he is damn good at it.
What I learned in this podcast:
How much someone will pay to get 10,000 followers in 90 days
What it costs to pay for one Retweet from a 100k+ account
Dakota's three pillars of great content
Five actionable tips for writing better copy
If you want to hear Dakota's wild origin story, start at the beginning.
If you want to skip straight to the business stuff, start at 15:00.
---
🔋 4. An Award-Winning Design Agency Just Gave Away Their Process For Free – Smith & Diction's Pitch Deck
This is why I love Twitter.
Philly-based agency Smith & Diction just published their entire client pitch deck for free.
It details their whole creative process, as well some case studies.
I'm a firm believer that if you want to level up, study what the best are doing.
If you're trying to grow as a creative, this is like free money.
Here's what they said about it:
We created this so our clients know exactly what they are getting into. It proves our value & sets the tone for working with us—all in one document.
​You can check out the Figma file here.
---
😂 5. Some Out Of Office Inspo For This Week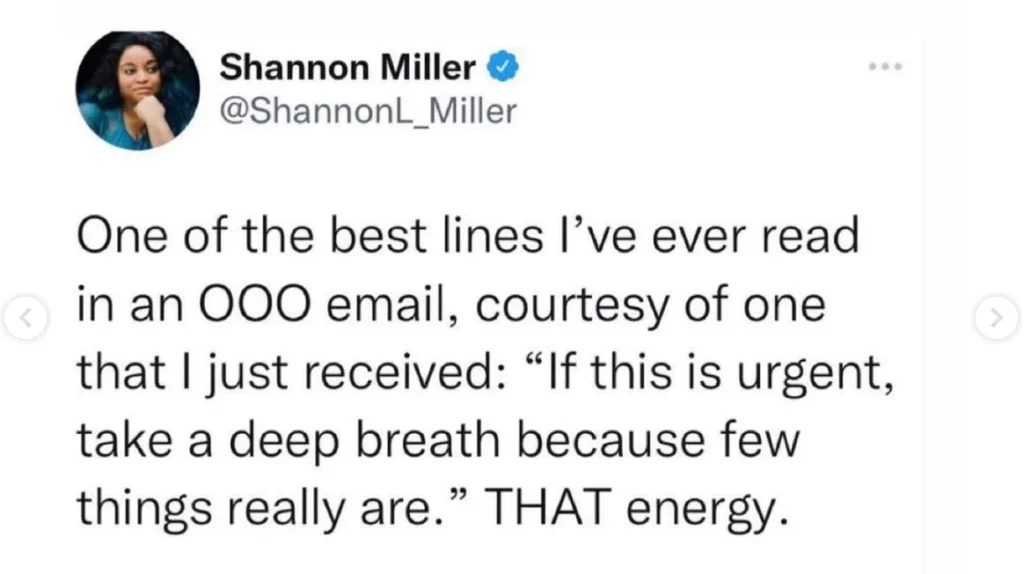 Unless you are a surgeon, it's never really urgent, is it? 😂
Subscribe To Work Less Wednesday