WLW #69
This week's issue of Work Less Wednesday is sponsored by:
​Bloom: The Ultimate CRM For Creative Professionals
Bloom lets you run your entire creative business from one place. Send invoices and get paid, manage projects, sign contracts, book clients, and more! Spend less time running your business and more time making money.
---
🌸 1. One Piece Of Software To Run Your Entire Freelance Business – Bloom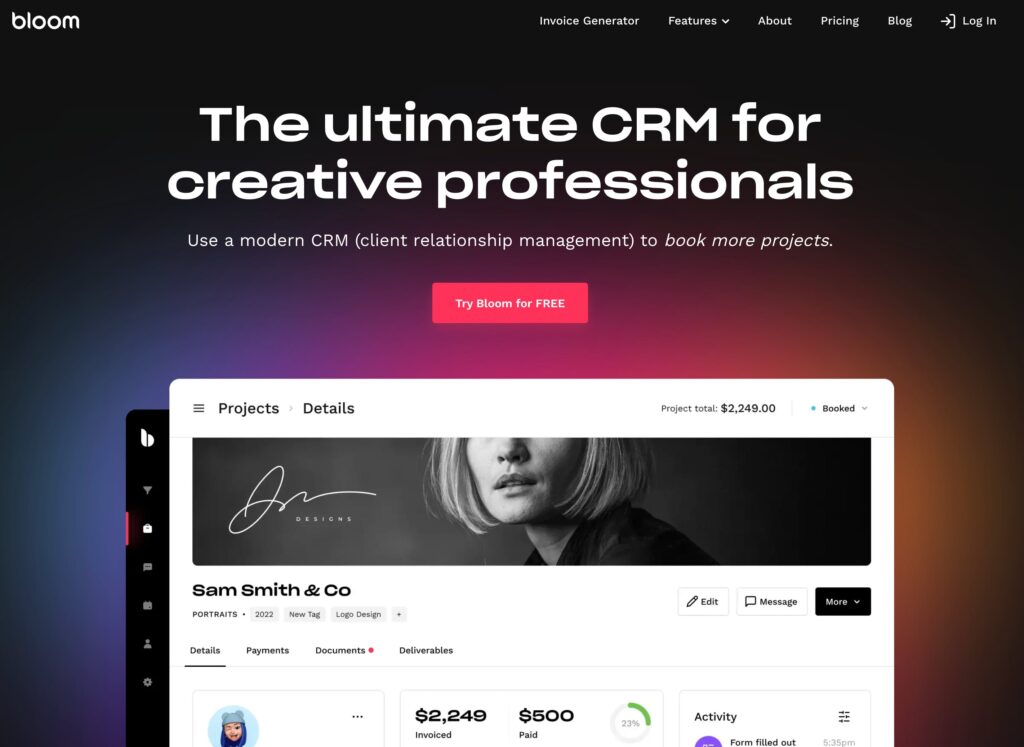 When I started my business 10 years ago, I wish I had Bloom.
​Bloom is an all-in-one tool that let's you manage your WHOLE business from one place.
You might call it a business in a box.
If you're running a client-based service business and are sick of cobbling together a bunch of tools in order to make your business work, this is for you.
Bloom handles everything for you:
📬 Sending Invoices. 🤑 Getting Paid. 🎁 Offering Packages. 🎨 Managing Projects. ✍ Signing Contracts. 🖼 Showcasing Work. 👥 Tracking Customers. 🤖 Automating Messages. 🗓 Appointments.
You all know I'm really picky about who and what I recommend.
But I have tested Bloom in depth and it's the real deal.
The Bloom team has been perfecting this product for years, and it shows.
I really believe Bloom is the best all-in-one solution if you are running a creative business right now.
They've been gracious enough to share a 30% discount code for readers of Work Less Wednesday.
​If you'd like to try it out, use code RICH30 For 30% Off.​
Let me know what you think!
---
🎧 2. What I Listened During In 13 Hours In The Car Last Week
I spent 13 hours in the car last week driving to Cleveland to visit my sister.
Plenty of time to digest 8 podcasts/audiobooks.
Here's what I listened to (and what I recommend you check out).
📌 P.S. Scroll to the end of the section for the TL:DR.
---
🧪 Podcast 1: Creative Elements by Jay Clouse​
I started the trip off with Creative Elements.
This is a podcast I recently found that is focused on how top creators are building their businesses today.
I listened to two episodes:
🎙️ #78: Marie Poulin – Earning $40,000 per month as a course creator​
You may know Marie as the creator of Notion Mastery.
She's kind of THE Notion person.
This episode told the story of Marie's transition from agency job to full-time freelance, as well as the origins of her course Notion Mastery.
🎙️ #134: Mariah Coz – Selling high-ticket programs on evergreen (without sales calls)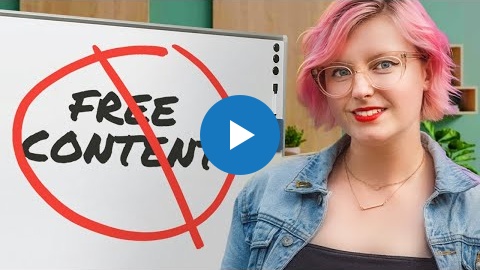 Mariah's episode was awesome.
It broke down how she got into the online course space and gave some really useful strategies for 2023.
This ultimately led me down a rabbit hole to HER podcast.
👩‍🏫 Podcast 2: The Mariah Coz Show​
I listened to three episodes:
🎙️ Simple Strategies For 2023​
🎙️ The Truth About 7-Figure Coaches & Course Creators (AKA: The Equilibrium Training)​
🎙️ All The Details About My New Program​
If you're in the online education world, I HIGHLY recommend checking her out.
Especially the "Simple Strategies For 2023" episode.
💡Podcast 3: The Tim Ferriss Show​
After that I tuned in to a classic – Tim Ferriss.
His interview with James Clear (author of Atomic Habits) was great – no surprise there.
🎙️ James Clear, Atomic Habits — Simple Strategies for Building (and Breaking) Habits, Questions for Personal Mastery and Growth, Tactics for Writing and Launching a Mega-Bestseller, Finding Leverage, and More (#648)​
Then I switched gears again, over to…
💰 Podcast 4: My First Million​
🎙️ Nick Huber: How to Make Millions from Content Without Selling Ads​
Nick Huber has built his business off his back of his Twitter followers.
It has a ton of REAL numbers and insights on turning an audience into a business.
Also, a very funny interview.
Finally, I closed out with an audiobook…
📖 Audiobook 1: 80/20 Sales And Marketing by Perry Marshall​
I'll read anything about The Pareto Principle.
I'm not done with this yet, but so far it's pretty good.
---
📌 TL:DR on my 13 hour drive podcast recommendations:
🛍️ If you sell online products: 🎙️ Mariah Coz: Simple Strategies For 2023​
🐦 If you want to build a business on social media: 🎙️ Nick Huber: How to Make Millions from Content Without Selling Ads​
🏗️ If you want to build better habits: 🎙️ James Clear, Atomic Habits — Simple Strategies for Building (and Breaking) Habits
---
Here's the deal:
If you try to have AI write FOR YOU, it's going to be bad.
What DOES work, is using AI as a tool to assist your writing process.
You can use it to:
Get your thoughts down when you want to
Organize your thoughts before you get started on a piece
Capture a voice when you want the flavor of a particular writer
Summarize complex ideas when you're trying to explain
Help you when you get stuck
Evaluate your writing when you need a fresh brain
​This article is a highly actionable guide to using AI tools to make you a better writer.
If you're wondering how AI can fit into your writing workflow, look no further.
---
📉 4. It Doesn't Matter If We're In A Recession Or Not… People THINK We Are – Twitter Thread by Patrick Campbell
Are we in a recession?
I don't know.
But guess what?
It doesn't matter.
What does matter?
People THINK we are in one.
And they are BUYING differently as a result.
​This interesting Twitter thread breaks down the results of a study on consumer sentiment about the economy, and how that should affect your messaging to customers.
What you should know:
People don't want to MAKE MONEY anymore, they want to SAVE MONEY.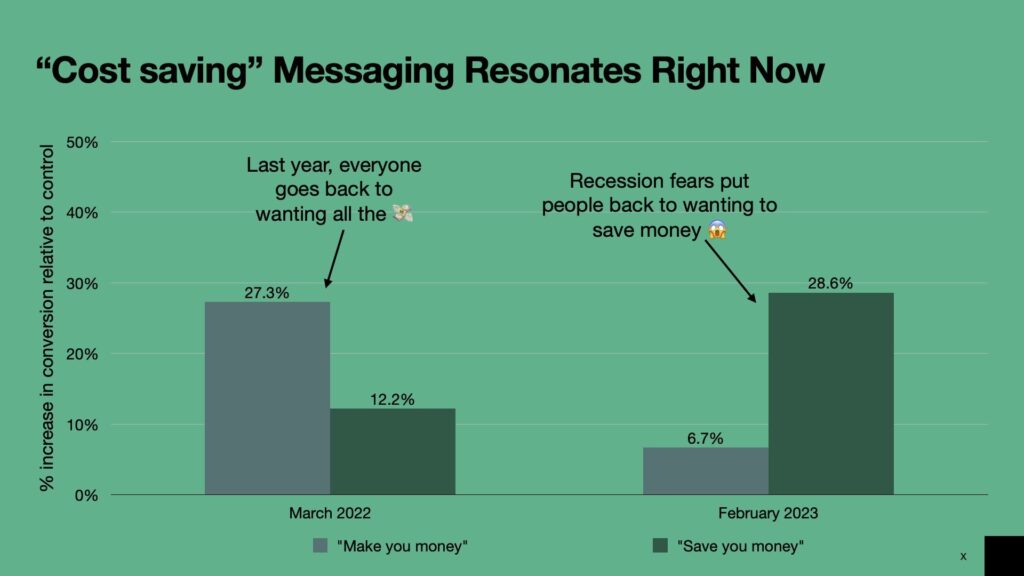 Worth remembering.
---
The #1 question I get asked on the internet:
"Rich, how do I find my first client?"
The #1 answer I give people:
Follow Chris Do.
Now he's making it even easier for you:
​In 63 short steps, Chris breaks down the entire process for you.​
Whether you are just starting out, or have a full time job, Chris has got the goods.
Read it. Study it. Learn it.
You're welcome.
Subscribe To Work Less Wednesday