WLW #74
This week's issue of Work Less Wednesday is sponsored by:
🧠 Brain.fm: Music Made For Your Brain 🧠
I listen to Brain.fm EVERY DAY during my deep work session. Their science-driven and research-backed functional music is designed from the ground up to help you you focus, relax, meditate and sleep. I can't recommend it enough.
---

🥳 My new FREE email-based course 🛠️ Six-Figure Solopreneur Systems is LIVE!
I'm not going to lie, it's the best FREE resource I've ever put out.
It's 7 jam-packed lessons that cover how to:
🛠 Design systems that run your business for you.
💰 Build the foundations of any profitable solo business.
🛑 And stop trading time for money.
In it, I break down the exact systems I used to grow two multi-six figure business while working less than 15 hours a week.
🎁 And what I'm really excited about, is it includes my proven systems for content creation, sales, marketing, fufillment, and referrals.
If you're self-employed (or working towards it), 6FSS is for you.
And it's totally free.
All you have to do is click this button. 👇
🛠 Click Here For Instant Access 🛠
---
Back on September 21st, 2022, I shared a story in WLW called "Instagram Hates Me Right Now (& Why I'm Not Worried About It)"
I suddenly went from having my Instagram content being shown to millions of new people a month, to just the people that already follow me.
This is what it looked like: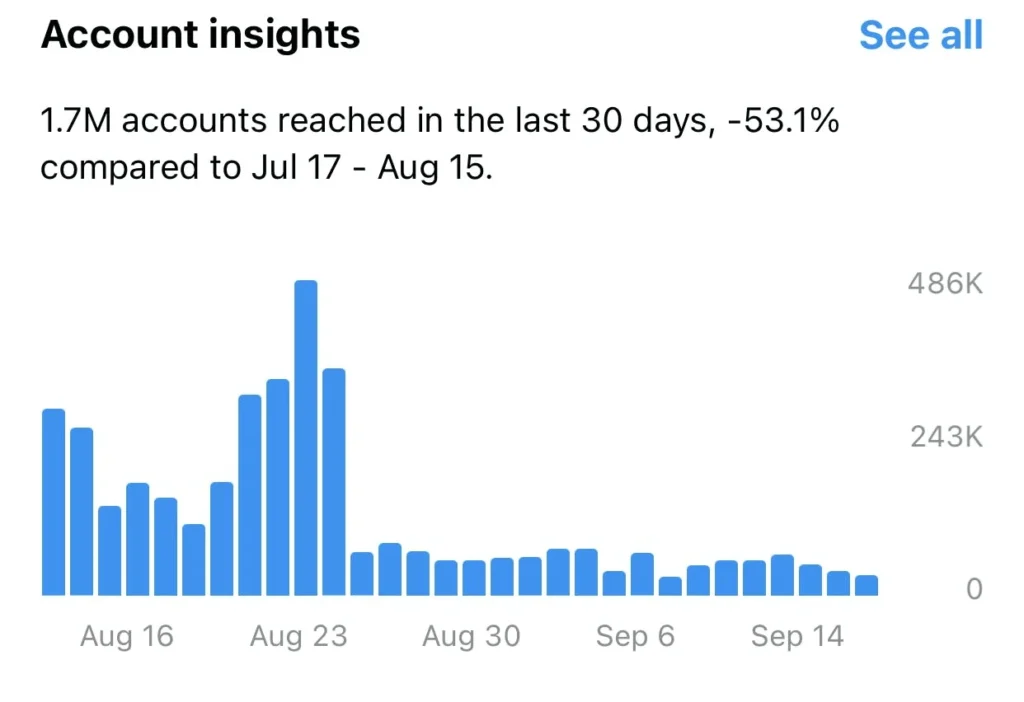 But I've got good news!
Instagram doesn't hate me anymore.
After literally 5 months (September – January) of ZERO GROWTH, I'm back in the game.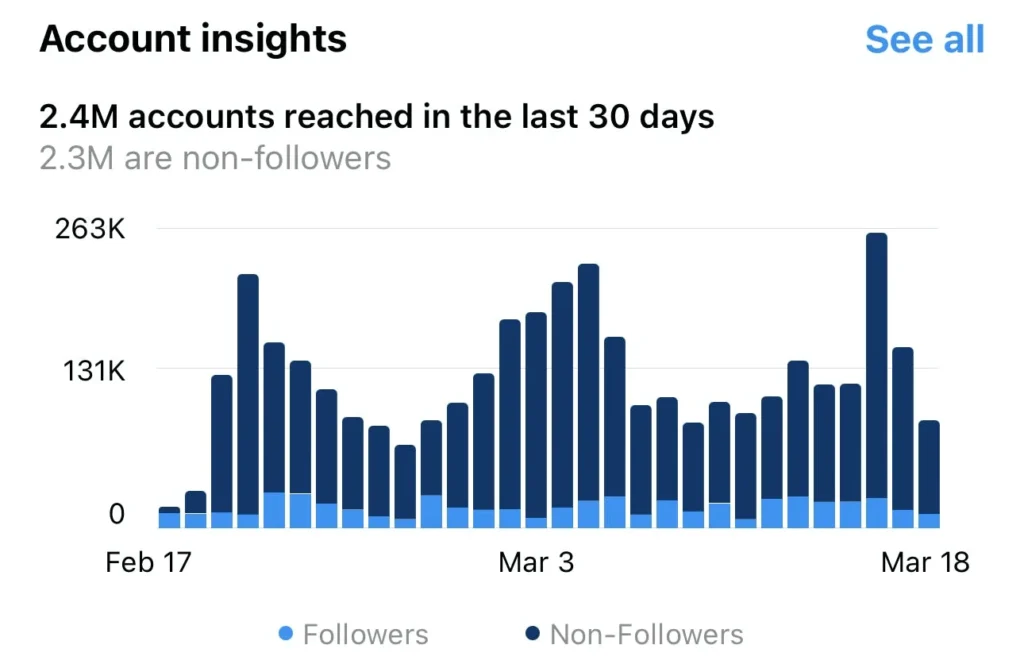 So what got me back in the game?
3 things.
📼 1. Started posting reels again
I used to post reels regularly, but stopped for a while.
Turns out IG wants people to post videos.
And they are rewarding people for doing it with more reach.
I've been posting 1-2 reels a week, and it's been going great.
🎯 2. Process-based goals, not outcome-based goals
In my post back in September, I wanted to focus on process-based goals, not outcome-based goals.
My goal was simple: "Post 7 times a week."
If I do that I win.
The followers and likes will take care of themselves.
For 5 months, I did that consistently, with little results.
Until all of the sudden, it happened.
When you focus on the process, not the outcome, you focus on what you can control.
🎢 3. Take growth while you can and enjoy the ride
Social media is crazy.
I've only been on Instagram for about 18 months, but in that short time period things changed CONSTANTLY.
I could have given up when my reach cratered.
Or spent all my time complaining about it online.
Instead, just realize the only constant in social media is change.
What worked last year doesn't work now.
What works today might not work tomorrow.
Just show up, keep posting, and enjoy the ride.
---
💰 3. Make The Most Out Of Your .99 Pricing – Article by Ariyh
Every time you walk into a store, you see .99 everywhere.
But why do companies price at .99 instead of .00?
Because most of the time, it makes people more likely to buy.
But if you want to make the most out of your .99 pricing, you need to do this:
☝️ .99 Pricing works much better when you display the original price as a reference
Here's why:
Look at these two options.
Option 1: $8.00 vs. $6.99
Option 2: $8.01 vs. $7.00
The first option seems like a much bigger difference, despite both options being exactly $1.01 apart.
This gets technical, but bear with me…
When comparing prices, we process them in one of two ways – either by looking at each number digit-by-digit (without rounding) or we round the number in our mind.
When the original and discount prices are listed side-by-side, we compare the prices through the first method.
As we make this comparison, the difference in the left-most digits stands out to us, making the difference appear larger (e.g. comparing $4.00 vs. $ 2.99, we focus on comparing the 4 and 2).
When the prices aren't listed together, we judge them based on our memory of one price, so we look at the numbers as a whole (e.g. 2.99 is considered 3), and the '.99' doesn't matter as much anymore).
Recap:
To increase the effectiveness of a .99 pricing strategy by up to 10% (e.g. using $1.99 vs. $2.00), mention the original price on the price tag.
​There's a lot of great insight in nuance in the full article – read on and learn more here.
---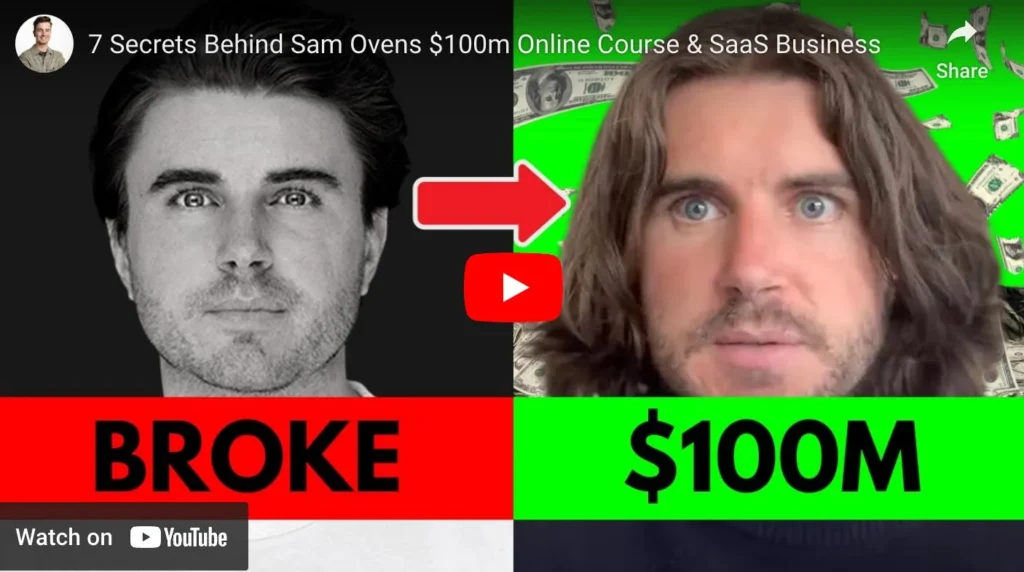 YouTuber Ryan Mathews has 137 subscribers.
I have no idea why the YouTube algorithm showed me his video.
But I gotta say, I was impressed.
This video details the 7 uncommon things marketer and founder Sam Ovens did to go from broke to a $100M online business.
It's a fascinating story.
Here are some of my takeaways:
🔸 Lesson 1 – Less Is More
Most business owners always feel like they have to do more.
Rather than having 20 products, Sam had 3.
Rather than advertising on 5 platforms, Sam did 1.
The key is to get really good at one thing, rather than being mediocre at 20 things.
🔸 Lesson 2 – Focus Is Key
​In a now iconic video, Sam made the shocking announcement that he was closing down his $3.6 million/year mastermind Quantum, to focus all his energy on his software company Skool.
He said he was "burning the ships."
Even though Quantum only took him 2 weeks out of the year to run, Sam knew the power of focus to get extraordinary results.
To hear more of the story – watch Sam's video explaining his decision.
🔸 Lesson 3 – Profit First
Sam learned this one the hard way.
When he started out, he built a business bringing in over $3 million a MONTH.
But only 8.3% ($250k) was profit…
So what did he do?
Scaled back his revenue to around $1m a MONTH, simplified his team and ads, and ended up making MORE money in profit from $1m a month than from $3m a month.
Less is more.
---
📧 5. How I'm Making An Extra $1,000 Every Month, Doing Nothing – Upscribe by Sparkloop
Last month I made an extra $1,024.50 by recommending newsletters I already read.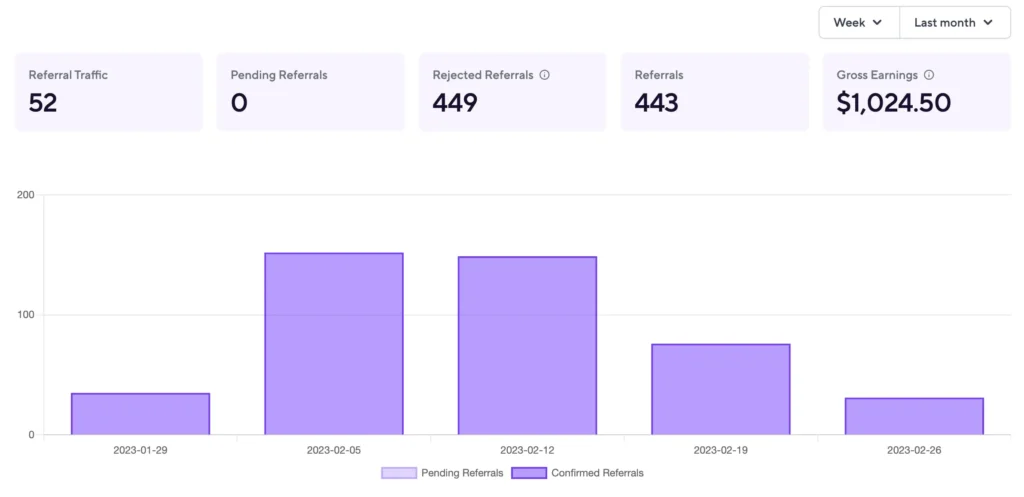 Here's how it works…
It's called Upscribe by Sparkloop, and it's pretty awesome.
Basically, when a new subscriber joins Work Less Wednesday, they get a message from me inviting them the subscribe to some other newsletters I like.
It's totally optional, and I find many people appreciate the recommendations and end up signing up for a few.
It looks something like this: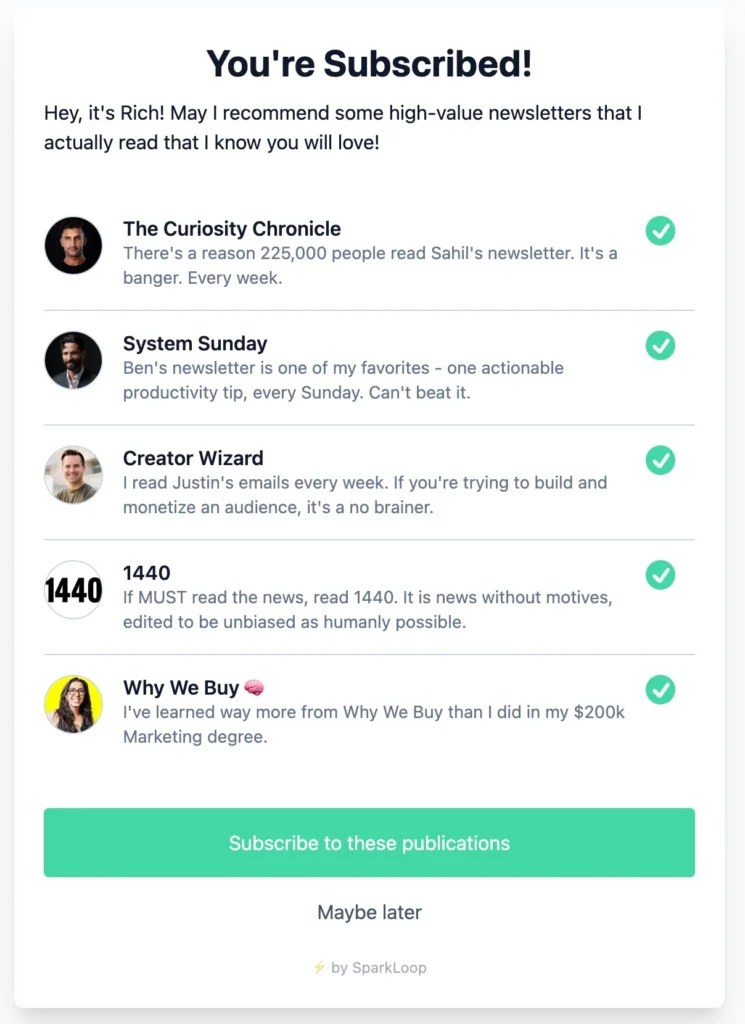 All of these newsletters are hand-selected by me and I read them personally.
They're not random.
Once the widget is installed, I don't have to do anything else.
For each newsletter I recommend, Sparkloop pays me between $1-4.
And it brings in an extra $1,000+/month.
(Which helps offset the cost of running this email, which is $2,876/month)
If you've got a newsletter and want to turn your readers into more cash, click this link to sign up for Upscribe.
If you've got 1k subs you can make $100-150/month.
If you've got over 10k, you can do $1000-1500/month.
Subscribe To Work Less Wednesday