WLW #76
This week's issue of Work Less Wednesday is sponsored by:
🏖How To Work Less: Build Your 6-Figure Lifestyle Business🏖
That's right I'm sponsoring my own email!😜
How To Work Less Cohort 4 is just 3 weeks away! We've taught hundreds how to design a one-person business that meets both their profit and lifestyle goals. And we're doing it again, starting on May 1st! Hop on our VIP Waitlist for $500 off this cohort!
Join The Waitlist For $500 Off!
---
🏖️ 1. How To Work Less Cohort 4 Starts On May 1st! – Join The Waitlist!
Friendly reminder that we are kicking off Cohort 4 of my live cohort-based course 🏖️ How To Work Less on May 1st.
That's in just 3 weeks!
Doors officially open for enrollment on April 24th, but my VIP Waitlist will get you in early.
If you want access to:
🗓️ Early Enrollment
💸 Exclusive Discounts
🔥 My Best Deal
​You must be on my VIP Waitlist.
🤔 Who is How To Work Less for?
You're perfect for How To Work Less if…
💼 You're self-employed (solopreneur, freelancer, service provider, etc.)
⏰ You're maxed out on time (no time left in the day).
💸 You're maxed out on money (you've hit a ceiling with income).
In just 4 weeks, you'll learn how to:
🤑 Scale your business without working more hours.
🛠️ Create systems that run your business for you.
😍 Do the things you love and delegate the things you don't.
👥161 incredible students have already been through our program.
Here's what they said:
"What I've been putting off in my business for years, Rich helped me accomplish it in just 4 weeks. This course really lit a fire in my soul."
"This course has overdelivered value 10x of it's price (you could easily charge 10k for the value you get)"
"I saw near instant results in my business after implementing Rich's techniques."
"I would have never thought you could pack so much value into one course. It has definitely changed my life and how I will run my business."
"I would have paid 5x for this course if I knew what was waiting for me on the other side."
"This course has ALL the answers to my Solopreneur problems."
There will be more information on HTWL coming soon.
​But remember, if you plan to enroll, make sure to get on the VIP waitlist.
---
"Stop it. You're doing things too well."
That's what David Fallarme's CEO told him.
And it's an important lesson.
As the VP of Marketing, David was obsessed with getting everything right:
The copy on the homepage
The traffic growth of the blog
The product shots in their demo video
There was just one problem…
The company wasn't growing.
And that was his actual job.
So his CEO sat him down and told him this metaphor:
(Bear with me, this gets a bit techy, but it's worth it…)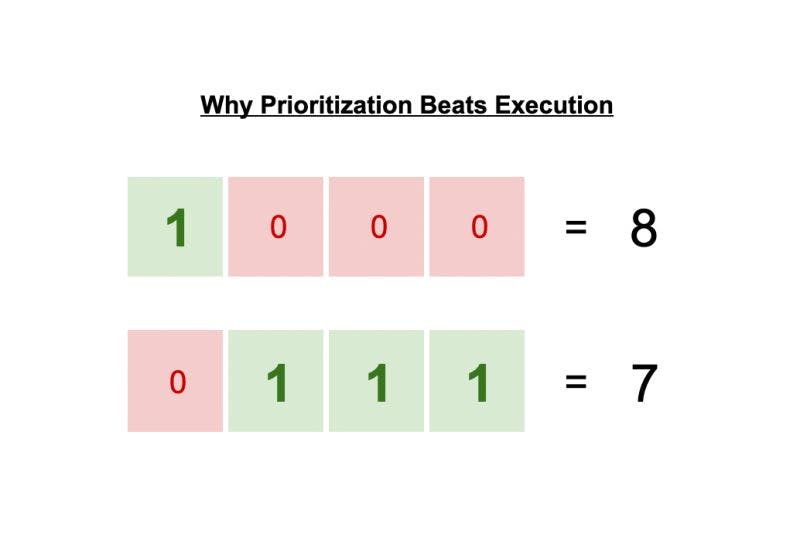 In binary math, you use bits — 0 or 1 — to express numbers.
You do this by flipping bits from 0 → 1 in a certain order.
For example, here's how 8 is expressed:
1-0-0-0 = 8
And here's what 7 looks like:
0-1-1-1 = 7
Notice that 7 has three bits flipped.
While 8 — the larger number — has only one!
Do you see the point?
When you focus on the right priority, you don't have to do it perfect.
Doing the right thing poorly is still worth more than executing the wrong things perfectly.
The way I think about it:
What you do matters much more than how much you do.
If you want to work hard, that's fine.
But make sure the work actually works.
---
I shared this post recently, and it didn't get a ton of action.
I thought that was weird, because this is literally the information people pay me $500/hr for.
So I'm sharing it again here for you.
The most productive thing you can do is raise your prices.
Here are 7 rules to start the process…
⏰ Rule 1 – Stop selling time
Selling time punishes you for productivity.
Let's say you have a task that takes an hour to do manually.
But you spend 5 hours writing a program that does it in 5 minutes.
Do you bill for 5 minutes or 5 hours?
That's why selling time doesn't work
In order to stop selling time, you have three options:
Value pricing (sell the value you provide, not the time spent)
Performance pricing (sell performance as a % of revenue)
Retainer (sell your availability to them)
Sell the value & ROI of the finished product, not the time spent producing it.
🔢 Rule 2 – Get better at saying big numbers
The people who get paid the most are the ones who ask for it.
The number 1 reason people don't ask for more money is they're afraid of hearing "no."
You're going to hear "no" occasionally, but not nearly as often as you'd think.
🏢 Rule 3 – Position yourself as a business
Term freelancer implies commodity pricing.
The day you stop calling yourself a "freelancer" is day you'll double your rates.
Agencies can charge 2-5x rates for the same work.
Use this info to your advantage.
🎁 Rule 4 – Increase the value of what you sell
High prices = high quality.
Aim to provide AT LEAST 2x the value of what you're charging.
Always shoot for:
better results
better quality
better customer experience
🤹 Rule 5 – Stack skills
Learn new skills that complement your existing ones.
It could be anything:
sales
marketing
design
copywriting
programming
The more skills stacked, the greater the value, the higher the price.
🔝 Rule 6 – There is no ceiling
My company's minimum rate is $60,000.
There are still people who charge more THAN ME.
There's no ceiling on price.
If you aren't losing on price occasionally, you're not charging enough.
💰 Rule 7 – Raise your prices each new project/client
Want to charge more but scared to take the leap?
Make a deal with yourself: "I will raise my prices every new project/client."
---
🎨 4. The One Site I Use To Keep Up On Design Trends – Typewolf
If you're in the creative field, you need to stay informed on the latest trends.
It's a necessary evil.
The problem?
Information gathering is time consuming and inefficient.
99% of the time you end up down rabbit hole on social media, with nothing to show for it.
So I'm always on the lookout for trusted resources that handle curation for me.
The one I've been using for years to keep up with design trends in Typewolf.
I get their weekly digest and feel like I always have a pulse on what's going on.
If you're a designer, I highly recommend it.
Not an ad, just a fan.
---
Last year, Tobi Ogunnaike quit his job and booked a one-way ticket to Barcelona.
His mission?
Do nothing.
And figure out who he was, without work.
​In his article, he shares how he designed his sabbatical, and details what you might expect if you take this path.
It all comes down to one question:
Who are we without our job?
It's a question many of us may never fully answer.
I highly recommend reading the full article, even if you're not planning to stop working anytime soon.
Subscribe To Work Less Wednesday