WLW #90
20+ Things I Don't Do As A $500k Solopreneur
In this episode, I cover: ​
– Why saying "No" is the most productive thing you can do
– All the things I don't do in my design agency
– All the things I don't do on social media
– 4 recent things I stopped doing ​
– How to apply this stuff to your life
---
💰 1. Why I Talk About How Much Money I Make – Article by Dan Mall
In most cultures, talking about money is generally considered taboo.
It makes no sense
We buy luxury products that scream to everyone, "I have a ton of money."
We post pictures of our "rich life" on social media.
We idolize and follow wealthy people in the media.
But when it comes to actual numbers, it's crickets.
Lets change that.
As a business owner, it is your job to uncover as much information as possible about money.
Information about how much people charge, how much people pay, and how much people make can be insanely valuable.
It can be the difference between a nightmare project and a dream job.
Here's an example:
I doubled my rates for the first time many years ago when I learned one of my friends was charging $100/hour for the exact same work I was doing.
I would have never done it if I didn't have that information.
So when you see me sharing exact numbers about my business on social media and on my podcast, it's because I want to encourage transparency around money.
It's time to pull the curtain on the wizard.
In that vein, I want to share a super valuable article from fellow Philadelphia designer Dan Mall.
​In this blog post, Dan shares his exact salary for his entire career, including the last 8 years of running his agency.
Some of my most interesting insights:
Start your own business: Dan made $90,000 as an employee, even as a "Design Director." The next year, he started his own business and made $231,480.
Revenue is vanity. Profit is sanity. Look at the interplay between his agency's Revenue and his Profit in the chart below. You can be making a TON of revenue with a bigger team, and still take home less than a solo business. Bigger isn't already better. Looks like Dan may have had that thought between 2020 and 2021.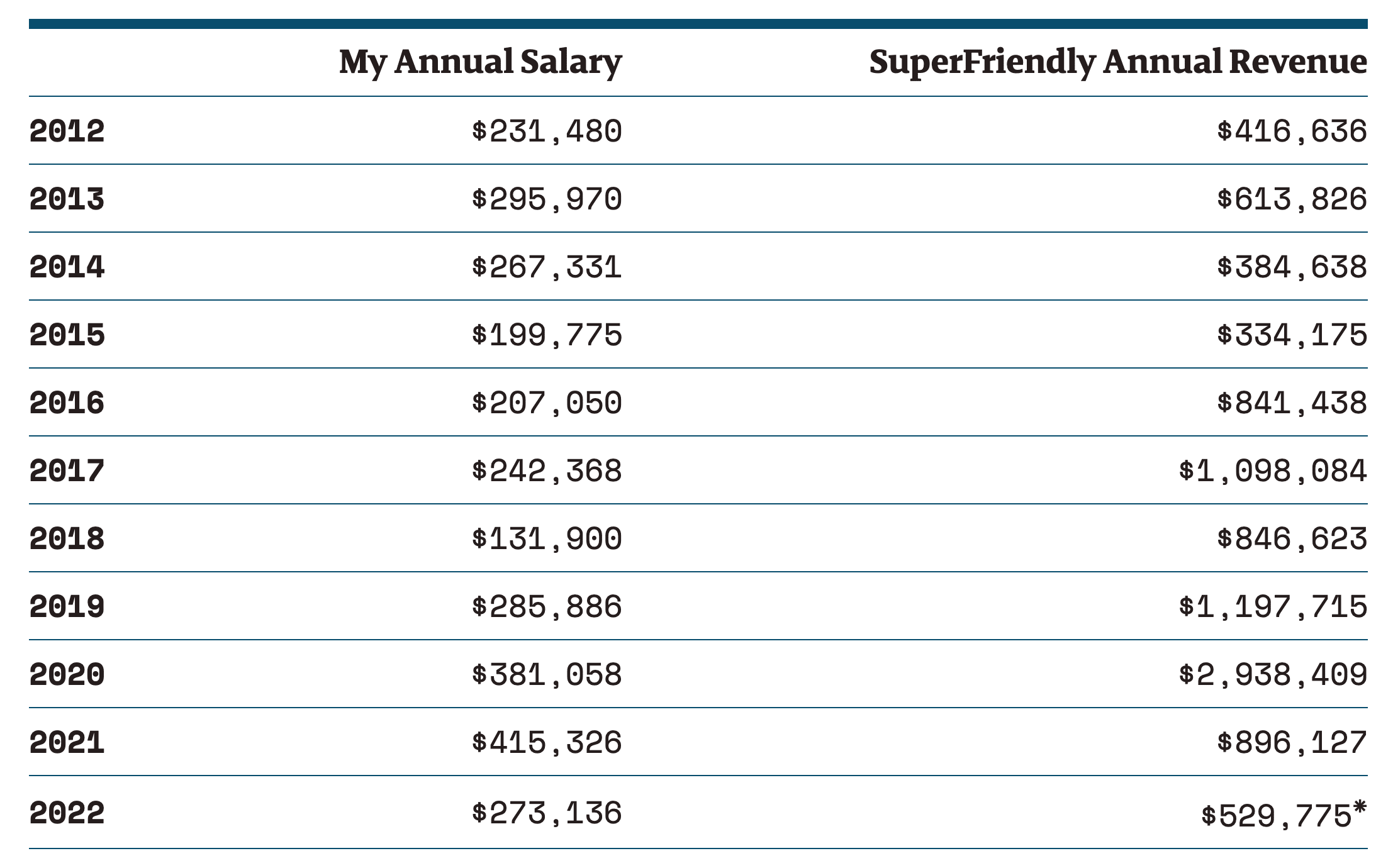 3. Good Money vs. Bad Money – "Making $10k while staying up late is so different than making $10k while you sleep. Numbers don't lie, but they don't always tell the whole story. There's a such thing as good money and bad money, even if the amount is the same." –
This is an amazing resource, and I hope more people follow Dan's lead.
Dan's book Pricing Design is one of the first books I read on this topic many years ago, and you should read it.
Want more numbers? Check out this spreadsheet of design salaries for more transparency. You'll be shocked by the insane range in pay for literally the same roles across demographics.
---
🤝 2. The Real Cost Of Meetings All Day
It's no secret that I'm not a fan of meetings.
Sometimes they are the best possible way to solve a problem, but I try to limit them as much as possible.
95% of my design agency's communication is asynchronous.
So why do I hate meetings so much?
They are often a waste of time, money, and focus.
We love to scrutinize small expenses, but have no problem keeping 10 people hostage in a conference room all day.
Pointless meetings have a massive opportunity cost: Everyone's time.
Here's my rule:
A meeting should create at least as much value as everyone present's lost time.
It turns out Shopify feels the same way.
They just built an internal tool that shows the ACTUAL COST of every meeting scheduled. It looks like this: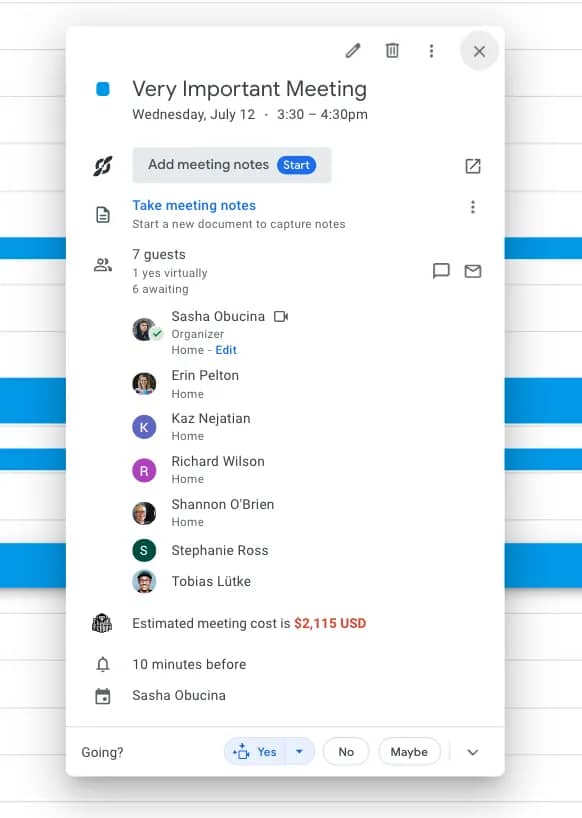 When you hold 7 people hostage in a conference room at Shopify for an hour, it costs the company $2,115.
If the meeting is not going to create at least $2,115 worth of value, it probably shouldn't happen.
As a result of this tool, Shopify deleted 12,000 meetings this year.
Pretty awesome.
​h/t Peter Yang for sharing this screenshot.​
P.S. If you want to build your own meeting cost tracker in Notion, check out this YouTube video.
---
🏖️ 3. Working Less Is Harder Than Working More (But It's Worth It)
I shared this post on Threads this week, and it got a lot of reactions: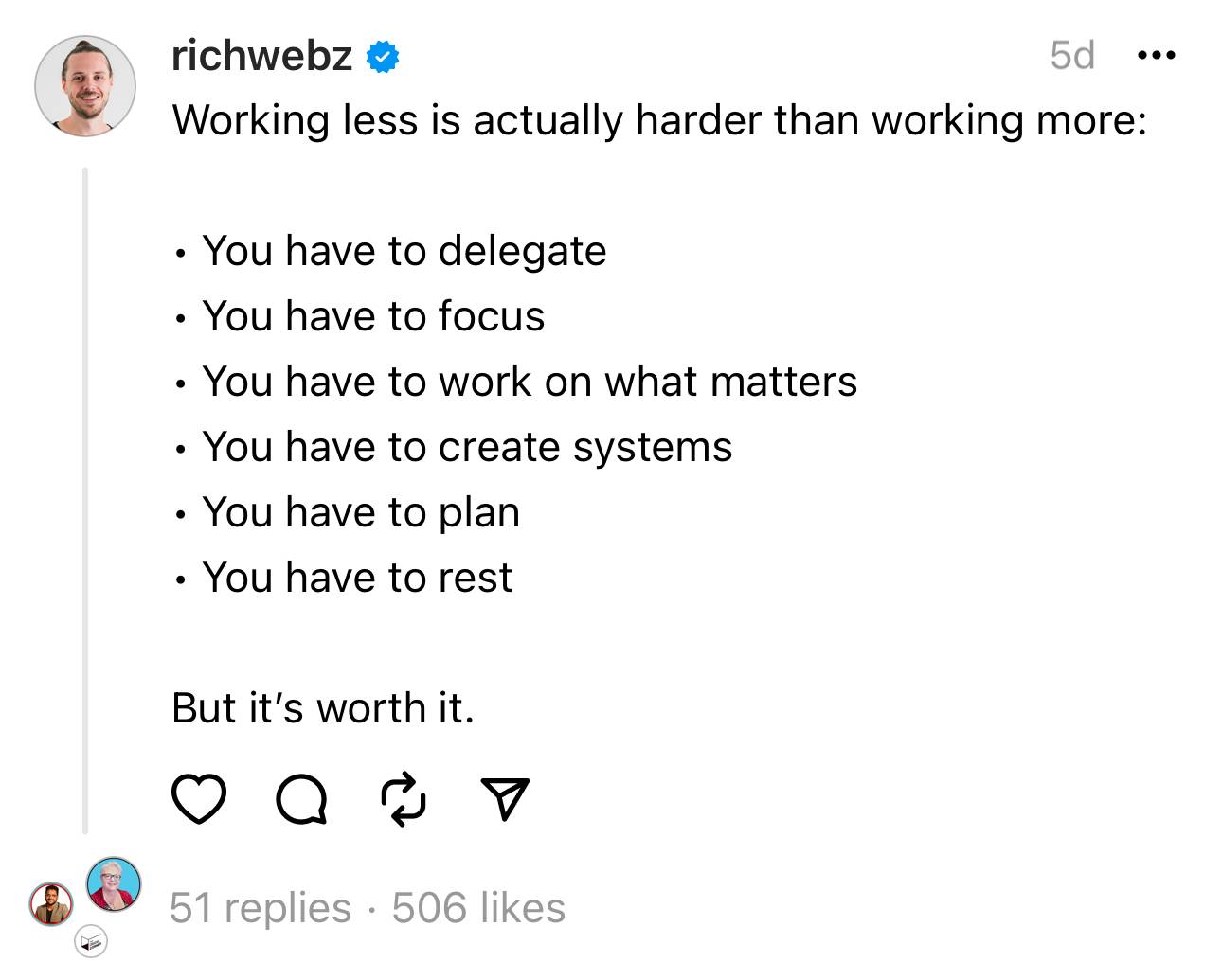 Working less is harder that working more.
But it's worth it.
I worked 23 hours last week running two multi-six figure businesses.
This is a real screenshot of my time tracking software, Toggl.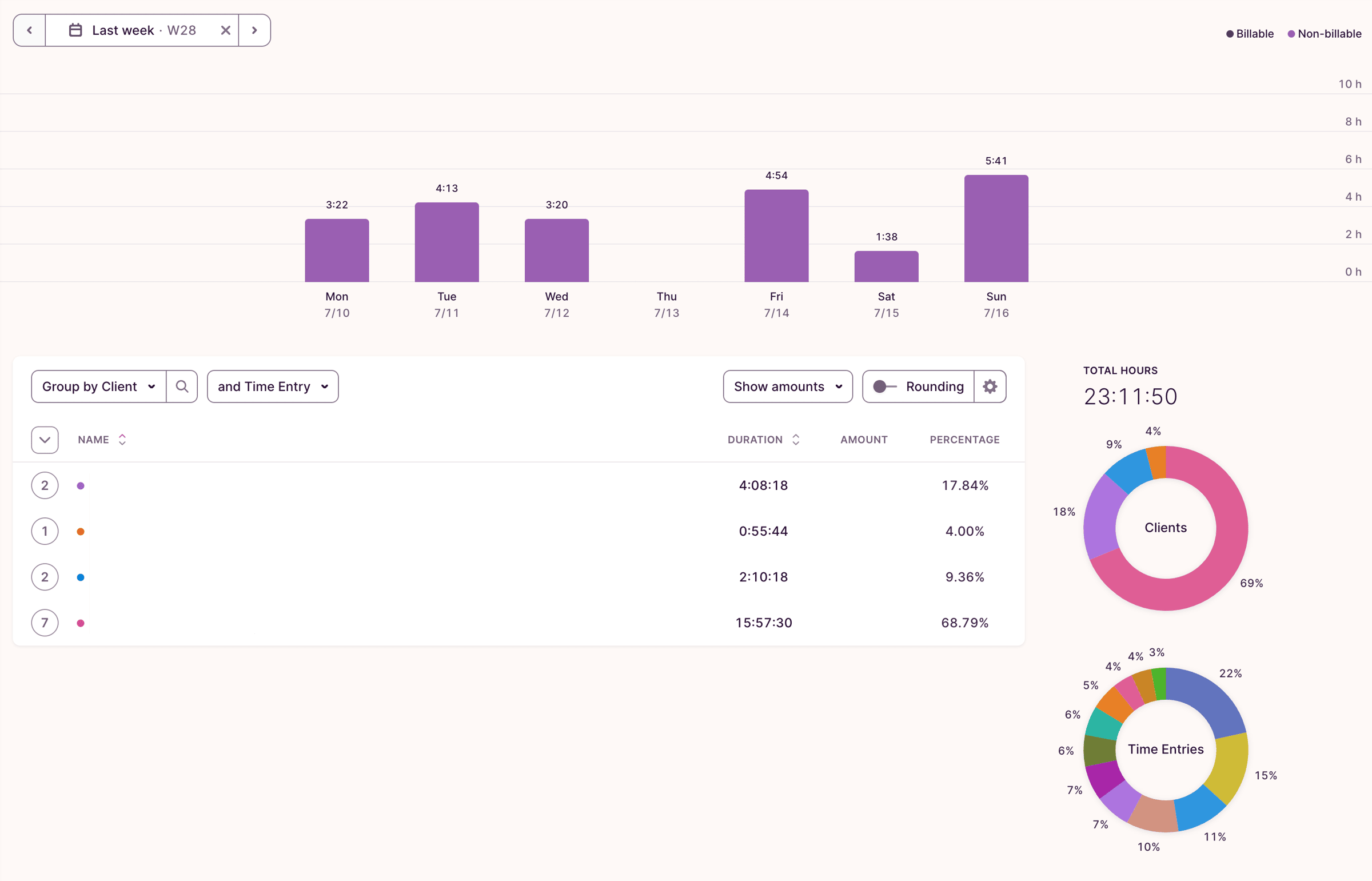 If you're curious, here's what I spent my time doing:
Most days I work 3-4 hours.
Believe it or not, it's not easy.
You have to give up a lot:
Mindless scrolling on social media
Constant distraction
Saying yes to everything
Shiny object syndrome
Unfocused work
Doing everything yourself
But the rewards are worth it.
What you get in return:
Freedom
Flexibility
Family
Friends
Health
Hobbies
Balance
Rest
I think the trade is worth it.
Do you?
P.S. Want to learn how to design your business so you can work less (and make more money)? Hop on the VIP Waitlist for my signature course 🏖️How To Work Less. Cohort 5 starts September 4th.
---
🖼️ 4. How To Improve Your Portfolio (Massively) – Video by Dann Petty
If you're just starting out freelancing, your portfolio is your most valuable asset.
(Side Note: Eventually, that will shift from your portfolio to your relationships. At this point in my business, clients often do not even ask for a portfolio or samples of work.)
When I vet freelancers for my design agency, I base my first impressions on their portfolio.
The Number 1 criteria I look for:
Is the work "client ready"?
Which means, "Could I send this work to one of my clients RIGHT NOW without any edits from me?"
So needless to say, portfolios matter.
Want to improve your portfolio by a lot?
​Watch this 1 hour video by designer Dan Petty reviewing 10 portfolios: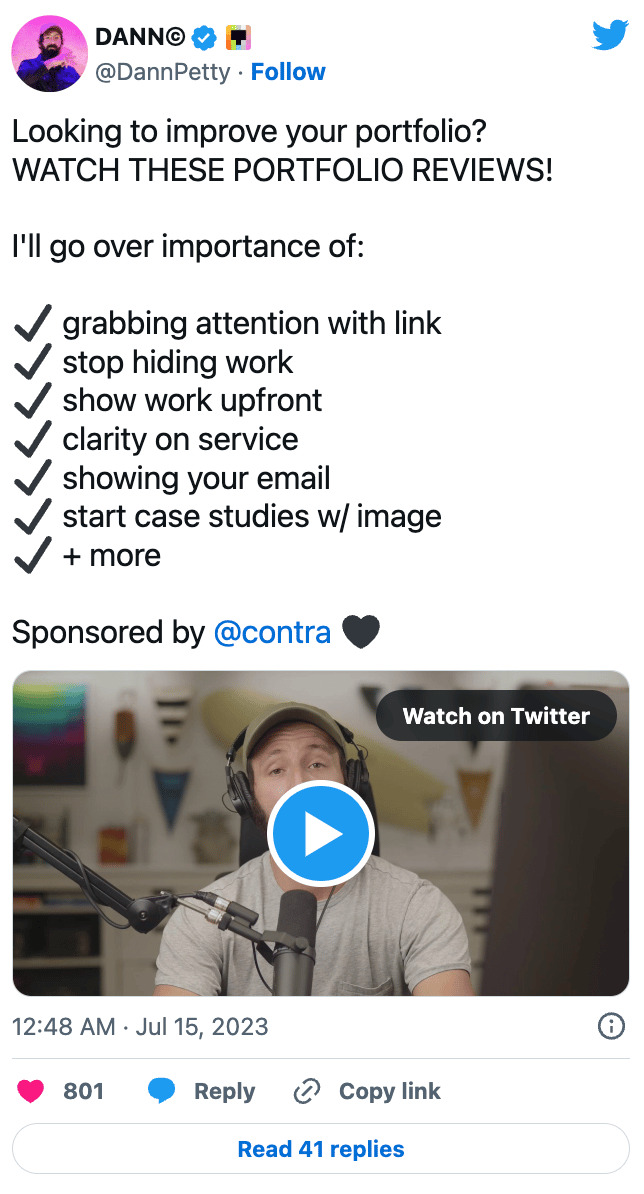 ---
📚 5. Books On Writing Recommended By My Agent
As I mentioned on Episode 1 of my new podcast, I'm working on writing a book pitch.
I've got two book concepts in mind right now, and need to narrow it down to one.
Right now I'm spending 1-2 hours each day freewriting.
Just letting writing flow and seeing where it takes me.
When I checked in with my agent last week, I asked him which books/resources he recommended I check out.
He shared two:
📘 Bird By Bird by Anne Lamott​
I'm reading them both now, and they're great.
If you're interested in the craft of writing, check them out.
One other book I HIGHLY recommend for nonfiction writing is:
📗 Write Useful Books by Rob Fitzpatrick​
I read it last year, it is super short, and is one of the most value-packed books I've ever read.
Subscribe To Work Less Wednesday