WLW #91
Lessons From $10,000 Of Coaching With Chris Do (Part 1)
In this episode, I cover: ​
– The story behind how I hired Chris Do to coach me
– The hidden value of coaching most people don't realize
– My 3 recommendations for hiring a coach​
– The 3 questions I had for Chris Do in our first session
– The #1 thing I was doing wrong with my high ticket clients
​– Chris' advice for scaling an agency and managing a team
---
I've been hearing a lot of chatter about this book online for a while.
It's one of Ali Abdaal's favorites ("one of the best books he's read")
It has sold 30k copies independently.
Here's the description:
The Pathless Path is an exploration of the invisible scripts that constrain our lives. It is not a how-to book filled with "hacks"; instead, it is a vulnerable and personal account of Paul's journey from leaving a path centered around getting ahead and towards another, one focused on doing work that matters. It is the ideal companion for anyone contemplating an unconventional path or aiming to improve their relationship with work.
I read most of it on the plane yesterday, and I was impressed.
Here are some of my highlighted quotes:
"The trap of prestigious career paths: Instead of thinking about what you want to do with your life, you default to the options most admired by your peers."
"The comfort we feel when we do what is expected keeps us from developing the skills we need to face uncertainty."
"People are starting to feel the disconnect between what we've been told about how the world works and what they experience. You work hard, but get laid off anyway. You have the perfect life on paper, but no time to enjoy it. You retire with millions in the bank, but no idea what to do with your time."
"Many self-employed people are surprised to find that once they no longer have to work for anyone else, they still have a manager in their head."
"Zen philosopher Alan Watts argued that "the desire for security and the feeling of insecurity are the same thing."
"I created a daily calendar entry of priorities for my life. First on my list was health. Next, my head told me to list "career," but my heart told me to list it last. This simple decision was my first conscious commitment to exploring the possibility of a life not centered around work. My final list included four items: health, relationships, fun & creativity, and career. Staring at those four items, in that order, was scary. Without knowing it, I had embraced a question that would shape my decisions: "How do you design a life that doesn't put work first?"
"If work dominated your every moment, would life be worth living?"
Speaking of work dominating every moment… ⬇️
---
✈️ 2. Day In The Life Of A Private Jet Broker – Video by Steve Varsano
​This video has been making the rounds on Instagram, Twitter (X? 🤦‍♂️) , and TikTok.
In it, private jet broker Steve Varsano (@thejetbusiness) shares a day in his life. Here's my summary:
Get to office at 6am.
Call clients in Asia.
Do emails.
More calls.
Meeting with 21 year old "CEO."
More calls.
12pm car ride for a haircut.
More calls.
Meeting with potential client.
Meeting with sales team.
Emails.
More calls.
6pm – team leaves office.
Emails.
Contracts.
Call clients in America.
9pm – stop work.
Wow.
15 hour day. 😵
All the comments I've read fall into one of two categories:
"That man's grind is inspirational."
"Real world..real players..these are the ones."
"The key to success is to go to work before everyone and leave after everyone."
or
"Learning how I can expedite my divorce and have my kids see me as a trust fund pay day. Sweet."
"6AM-9PM. 15 hours. Assuming he gets a proper 8 hours of sleep, that leaves him with ONE HOUR in his day to himself. He has no hobbies or interests, he has no passions. He has no LIFE. He only has his job. Do not aspire to be like this."
"It's a depressing life."
I'm definitely in camp #2.
What's the point of being "successful" when you have to work from 6am to 9pm every day?
I hope this guy REALLY loves what he does.
But where is his family?
Hobbies?
Free time?
A life?
When he looks back, will he be glad that he devoted his life to helping rich people buy planes?
Not up for me to decide. But worth considering.
---
🎓 3. Coaching Session I Did This Week – With Justin Moore
This week I did a 1:1 coaching session with Justin Moore, founder of Creator Wizard.
Justin's been in the creator business for over a decade, earned $3m in sponsorship deals with his wife, ran an influencer marketing agency, and now does consulting and teaches creators how to win brand deals.
I'm in the middle of negotiating a handful of Instagram brand deals with some awesome companies (which I think you're going to love).
During the process, I realized: "I'm literally just making this up as I go."
So I went straight to the source.
I knew that if I could just get a few small pieces of info, the session would be worth 10x my money.
Spoiler: It was.
But what's really cool is Justin's coaching model.
He offers two pricing tiers:
Tier 1: $1,000/hour – Private coaching
Tier 2: $500/hour – Public coaching
I selected Tier 2, which means that he is allowed to edit and publish the recording of our session to his YouTube channel.
As a content creator, this was a no-brainer for me.
I get to:
✅ CREATE CONTENT
✅ GET MY PROBLEM SOLVED
✅ SAVE $500
Pretty darn cool.
We recorded the session for his YouTube channel – which will go live in a few weeks.
I'll share it here when it is published.
If you're trying to monetize a creator business through sponsorships, definitely check out his YouTube.
---
📬 4. 3 Steps To Write A Great Welcome Email – Tweet by Matt McGarry
I'm working on updating my Welcome emails for Work Less Wednesday.
​Matt McGarry has been an invaluable resource for all things email-related.
He's grown some of the biggest newsletters in the world.
His top 3 tips for welcome emails:
Ask people to move your email to primary, reply, and click
Don't use double opt-in (you'll lose ~30% of subs)
Write a great subject line (check out the examples)
My current subject line:
👋 Welcome To Work Less Wednesday! + Free Stuff!
Could it use some work? 🤔
---
👺 5. Cool (Free) Tool For Breaking Down Projects Into Tasks – Magic ToDo by Goblin.Tools
Do you have a task on your to-do list that you never seem to get around to?
It's likely because the task is actually a project that is too big or complex to tackle all at once.
The solution? You need to break that project down into tasks.
A few weeks ago my friend (and insanely talented musician) Brooke shared this tool with me that solves the problem:
It's called Magic ToDo.
Magic ToDo will break down your project into subtasks.
For example: Clean the living room.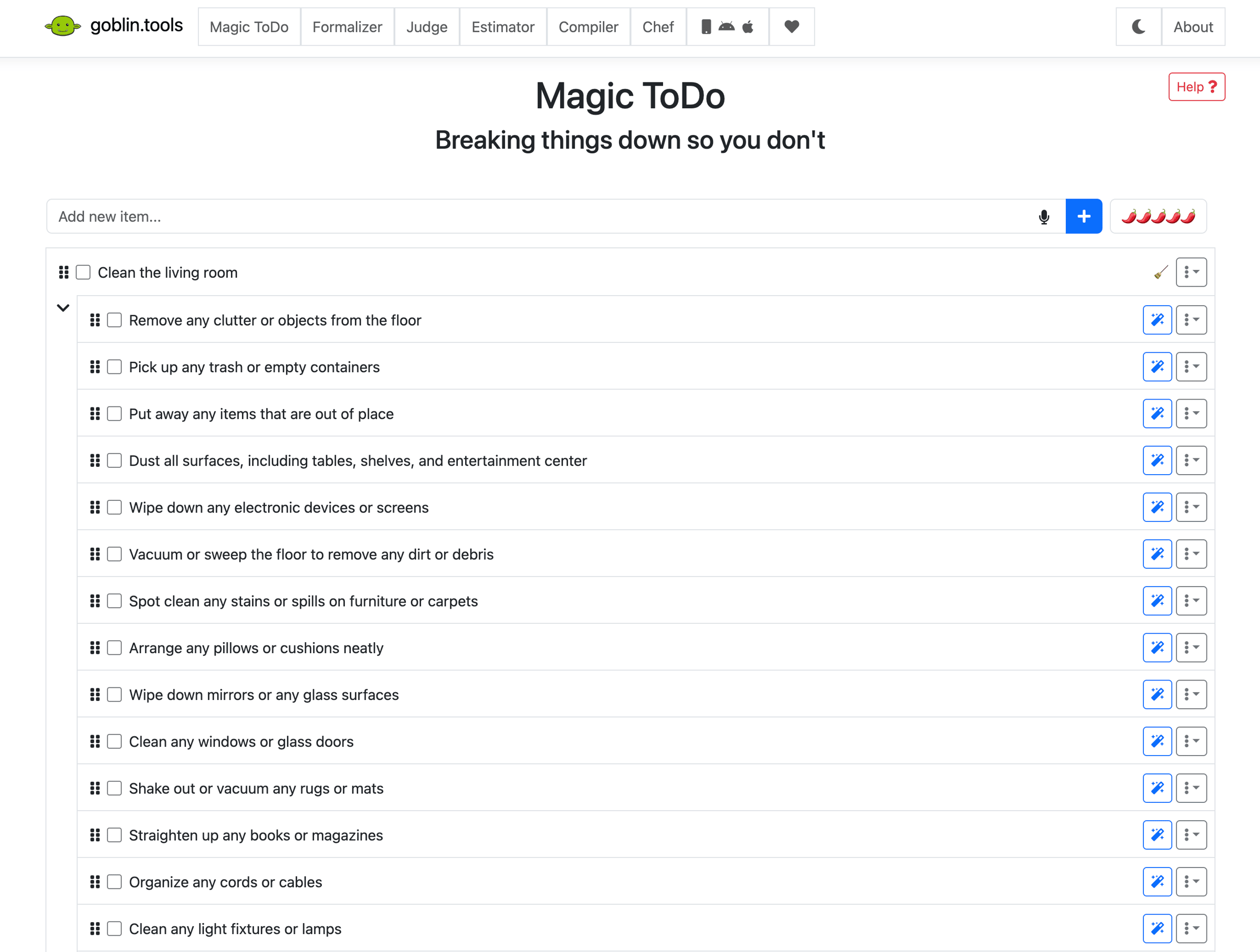 🎬 If you want to see Magic ToDo in action, check out this demo video my friend Brooked recorded for me.​
By the way, Magic ToDo is totally free. Check it out here.
Subscribe To Work Less Wednesday