WLW #94
7 Systems I'm Using In My Businesses
In this episode, I cover: ​
🛠️ The 7 systems I'm using to work less and earn more
📸 My content system creating 7 posts a week on autopilot
🛍️ How I automate getting clients for my agency and course
📰 The newsletter system that takes me 1 hour and 53 minutes per week to write
🔄 My design agency's fulfillment system
💬 How I use systems to handle thousands of DMs a month
---
💸 1. It Will COST You Money To NOT Watch This 51 Minute Video – Video From Alex Hormozi
This video from Alex Hormozi is perhaps his most valuable yet.
If you're self-employed, please do yourself a favor and take 51 minutes to watch it.
And maybe take notes.
If you don't watch it, it will literally cost you money.
The title?
"How to get SO rich you question the meaning of making money"
The topic?
Focus.
People try to do too many things at once.
We literally have a whole lesson on it in 🏖️How To Work Less, because it is THAT MUCH of a problem.
We want to be on Twitter, Instagram, TikTok, and LinkedIn all at once, when we have less than 500 followers.
We want to build out our whole suite of products at every price point, when we haven't made $1 yet.
We want to own 5 businesses, but haven't cleared six-figures on one yet
Here's what happens:
When we say yes to every NEW thing, we go a little ways, in a lot of directions.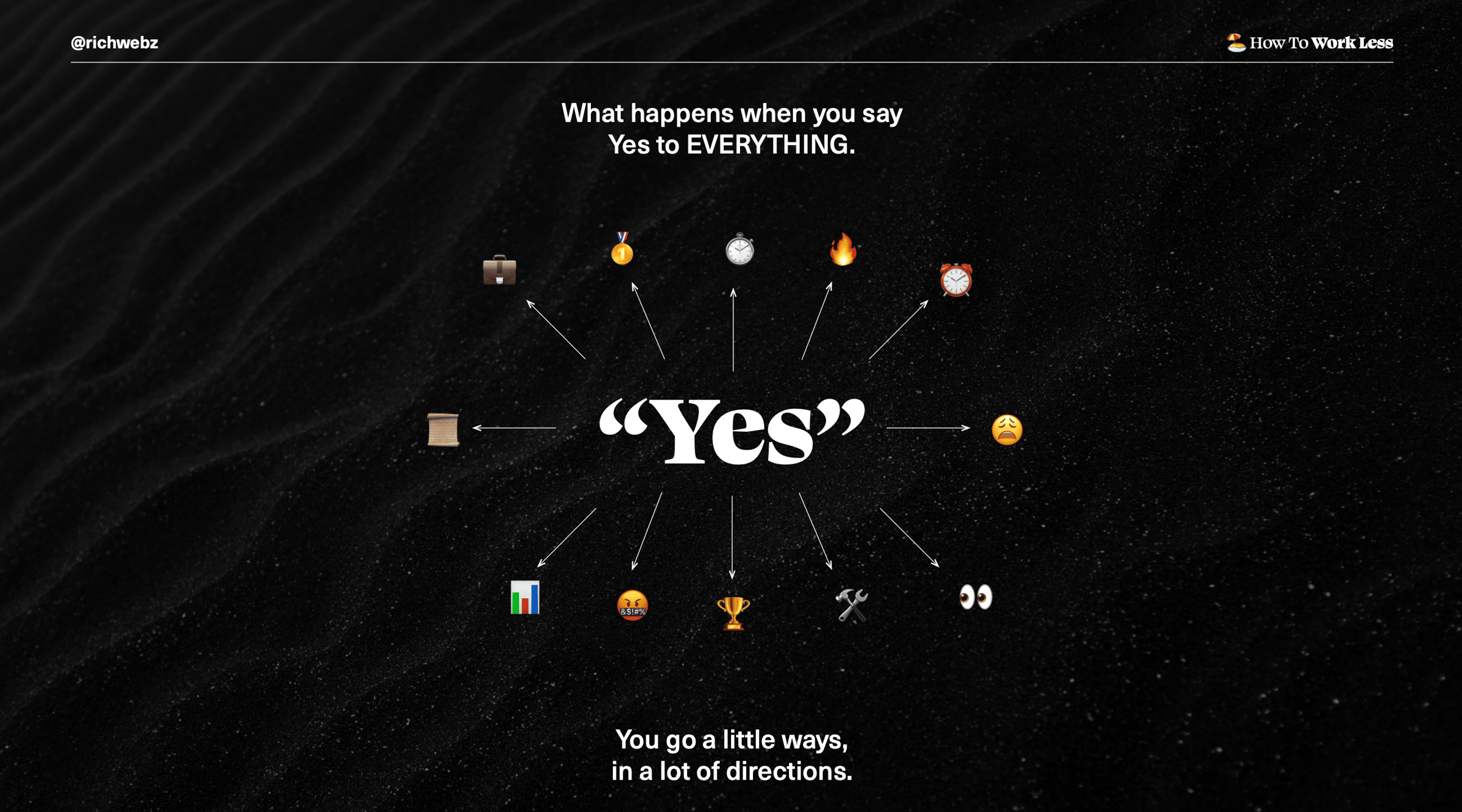 When we say no to most things, we go a long ways, in one direction.
That's the power of focus.
Here's a rule of thumb to follow:
If you haven't made ONE MILLION DOLLARS from one product, service, or business yet, you shouldn't even THINK about your next one.
That sounds crazy, but I'm serious.
Any (reasonable) business should be able to make $1 million dollars eventually, given enough time and focus.
If you don't think you can get there with one, why do you think having 5 more businesses will help?
I'm guilty of it too.
That's why I shut down my public 1:1 coaching, my small group program, and sell just ONE transformative product: 🏖️ How To Work Less.
Small business owners are obsessed with NEW.
Don't worry about NEW.
Instead, ask – How can I do MORE of what I'm doing that already works?
And how can I do it BETTER?
---
💾 2. Why Basecamp Redesigned Their Landing Page (When It Wasn't Broken) – Tweet from Jason Fried
Jason Fried's book "It Doesn't Have To Be Crazy At Work" is one of my all time favorites.
His company, Basecamp, has always been a model of how to run a calm, stable, profitable business.
Last week, Jason Friend took to Twitter to share 20 minutes on their controversial redesign of Basecamp.com, a site that arguably, didn't need a redesign.
This is the new site ⬇️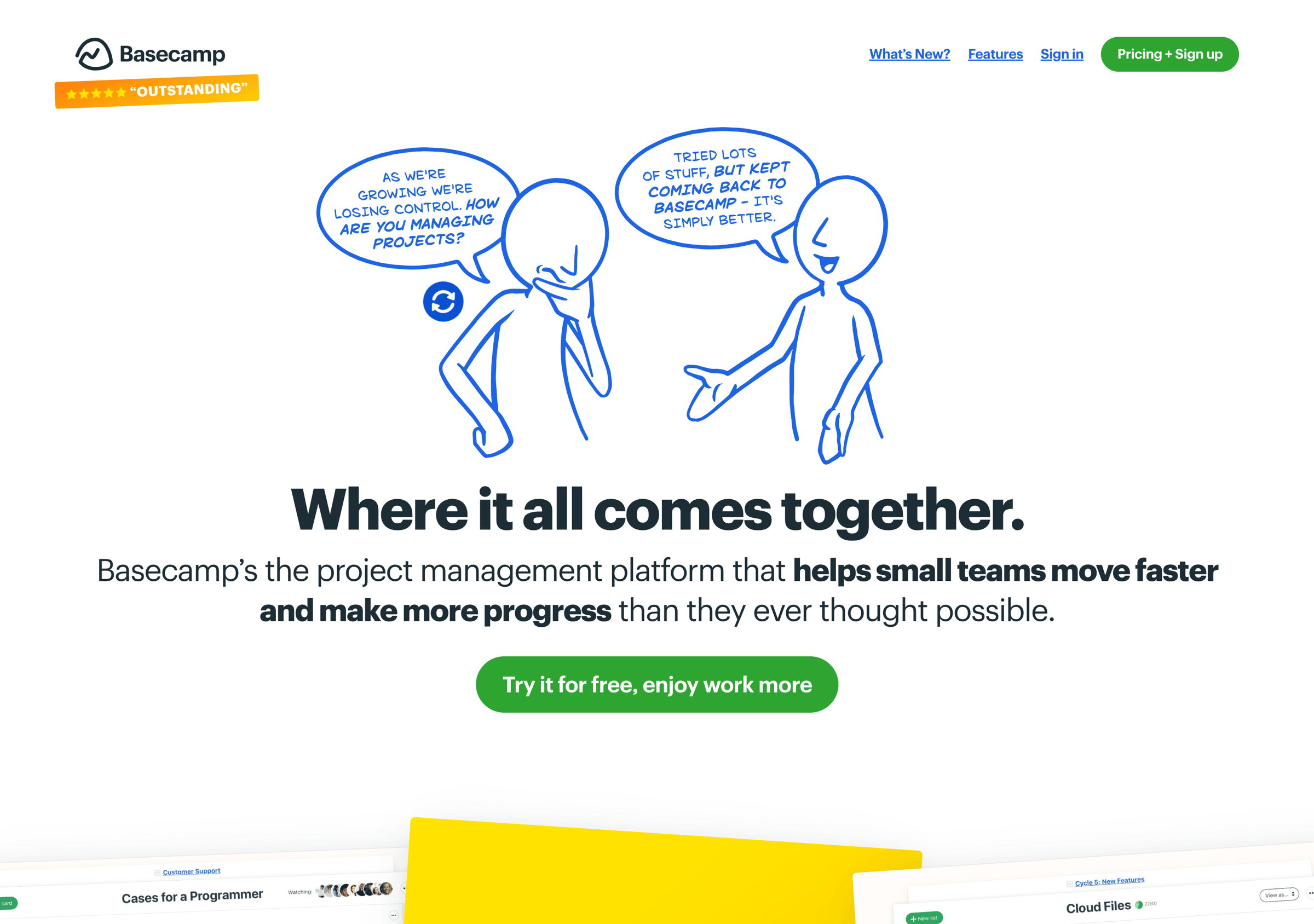 Here's some of my notes from the video:
Not following "best practices" → "The problem with those who follow is that they fall into the trap of the undifferentiated. So many things look like everything else."
No grid for their design
No product shot in header (illustrated guys talking instead)
Headline obsession: They wrote over 300 headlines and landed "Where it all comes together."
What I admire about this:
They are experimenting and testing.
Is it better?
Only one way to find out.
The only way to get new results, is to do things a new way.
Not only that, they are sharing their process transparently and publicly.
​Something I hope to do keep doing with my businesses.
---
✍️ 3. An AI Writing Tool That Might Actually Help – TextFX from Google
I've been quietly experimenting with AI tools over the past few months.
Nothing has really blown my mind, but I see the potential.
ChatGPT and similar tools spit out generic writing.
That doesn't help me.
I'm more interested in AI as a way to generate new ideas.
As a writer, this is the first tool I've seen that may be really useful.
TextFX is a suite of 10 tools "designed to expand the writing process by generating creative possibilities with text and language."
It's designed for rappers, artists, and creative writers.
​There is a really cool demo of rapper Lupe Fiasco writing a song with it here.​
The secret to this tool is that it helps you solve SPECIFIC small problems in your writing.
It's not going to write everything for you.
Need a creative way to explain your point?
Use "Simile" and type in "working minimum wage"
The results?

Interesting.
Need an acronym to explain a concept?
Use "Acronym" and type in "REST"
The results?

Interesting.
Need some sensory details to enliven a scene?
Use "Scene" and type in "another day at the office"
The results?

Interesting.
P.S. Want to learn more about using AI to work less? So do I. So I called in a favor and booked a guest workshop with AI expert Dave Talas (from Promptmaster) to teach my students how they can make it happen. If you're enrolled in 🏖️How To Work Less, you're in.
---
📱4. New App I Picked Up This Week – Waking Up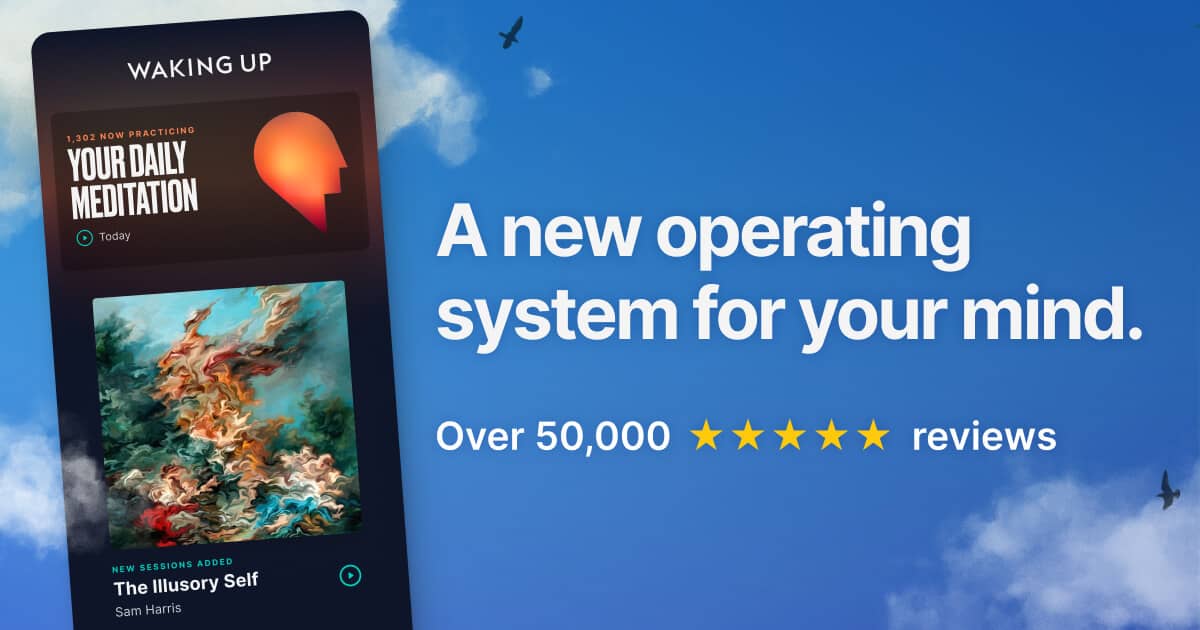 I've been daily meditator on and off for the last decade.
Recently I was feeling the need to mix things up and add some structure to rebuild the habit.
​Waking Up has a 30 day mindfulness meditation training that combines daily meditation with short audio lessons.
I'm about 10 days in and am loving it.
You can use mindfulness meditation to train your brain, the same way you exercise to train your body.
It helps focus, anxiety, and creativity.
​If you want to get back into (or start) meditating, check it out.​
(not an ad – just something I'm enjoying)
---
🎬 5. Movie You Should Definitely Watch (I Don't Recommend Movies Often) – In & Of Itself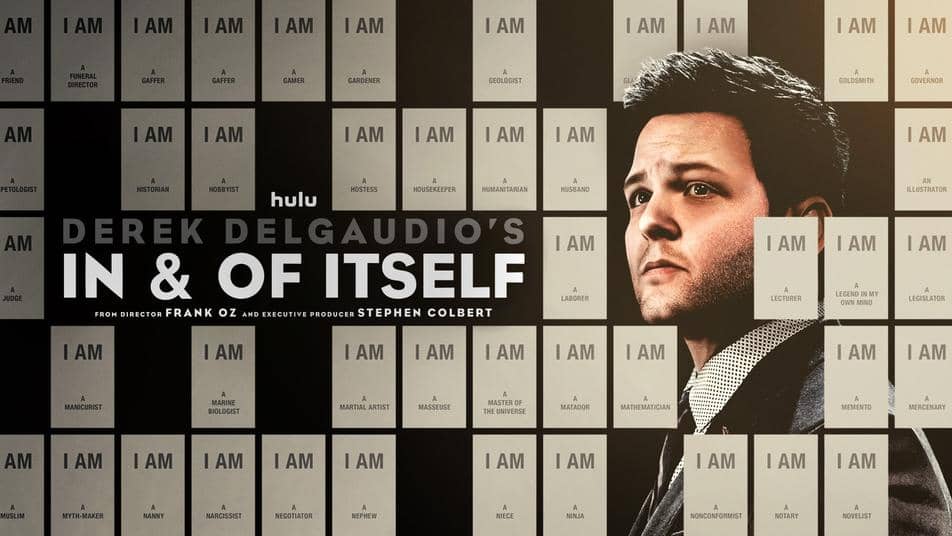 If you are a longtime WLW reader, you know I don't recommend many movies on here.
This one is worth it.
​Derek Delgaudio's In & Of Itself.​
In & Of Itself was an off-broadway show in New York that ran for over 500 shows.
It is part:
One man show
Conceptual art piece
Magician masterclass
Meditation on life and identity
Last year, the released a filmed version.
It blew me away.
I won't spoil it, but check out the trailer here.
Subscribe To Work Less Wednesday