WLW #67
This week's issue of Work Less Wednesday is sponsored by:
​Stacked Marketer: The Wall St. Journal For Marketers
50k of the world's smartest marketers read Stacked Marketer each day. Get carefully curated digital marketing news, tech, and actionable advice, delivered fresh every weekday.
---
🔘 1. How One Button Cost A Business $300M – The $300M Button
During our January session of The Work Less Group (my private coaching group for graduates of How To Work Less), James Hsu (follow him on IG!) told me about this UX case study that blew my mind.
It is the story of a MAJOR e-commerce site that was losing over $300M a year from just one button.
Here's what happened…
Previously, after shopping on the site, when users went to checkout, they only had two buttons to click on…
"Log In" or "Register"
It turns out that was a huge mistake.
Why?
First-time shoppers were hesitant to "Register" and give up their personal info.
Returning customers couldn't remember which email they used to "Log In," so they just gave up.
Even worse, half of the company's returning customers had multiple accounts.
So what was the fix?
They removed the "Register" button and put a "Continue" button in its place.
Plus, they reminded users it wasn't necessary to create an account to purchase.
What happened?
See your yourself ⬇️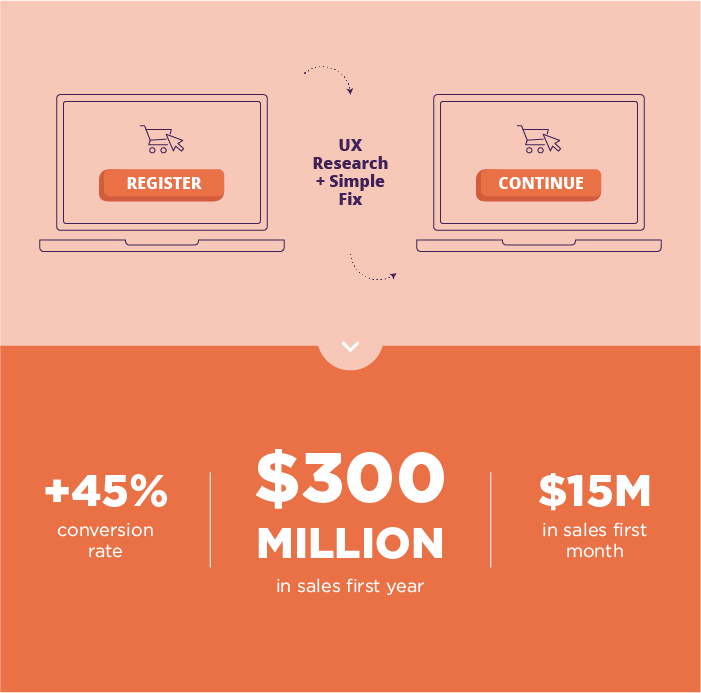 Sales increased by $300 MILLION in the FIRST YEAR.
All from one button.
The lesson: Little tweaks can make (or lose) big money.
---
😌 2. How To Work 3 Days A Week As A Freelancer – Article by Kat BoogaardV
I came across this article from Kat Boogaard on Twitter and I couldn't wait to share it here.
Kat maintains a consistent three-day workweek as a freelance writer.
She's living the Work Less dream.
But how did she get there?
A combination of burnout and the desire to prioritize what really matters in her life: family.
Here are some tips from her journey:
🗓 Tip 1: Start by removing one day
She started small, by just removing Fridays from her schedule.
Then a year later she cut Thursdays out too.
💰 Tip 2: Adjust the business model to focus on high profit, quality clients
Here are some of the changes she made:
Raised her rates
Stopped working with clients who weren't enjoyable and easy to work with
Stopped taking projects outside of her niche
💬 Tip 3: Communicate boundaries
Finally, she needed a massive overhaul in how she communicates with her clients.
Her clients now know that she has these boundaries:
I'm not available for same-day calls
I typically respond within 48 hours (often sooner, but I'm not jumping on their emails instantly)
I don't fulfill urgent requests or rush jobs
I have full control over my schedule, not them
The whole article is a great read, I recommend you check it out here: https://katboogaard.com/three-day-workweek/.
---
🏖 BY THE WAY…
Does a 3-day week sound like something you'd like to implement?
If so, you'd be a perfect fit for my course 🏖How To Work Less!
Make sure to hop on the VIP Waitlist for Cohort 4 of How To Work Less.
I'll teach you everything including:
⏰ My exact system to work a 5 hour day.
🤝 How to take all your meetings in just 1 day a week
📬 How to get off the inbox hamster wheel
👥 How to delegate the work you hate doing
🛠 How to create systems that run your business for you
​Join the VIP Waitlist for Cohort 4, which starts May 1st, and save up to 30% on Enrollment!
---
🖥️ 3. How I Decluttered My Mac For Productivity – Bartender 4 For Mac
I always aim for a really decluttered digital workspace.
I find the less things that I can see on my screen, the less options for distraction.
If I can help it, my desktop usually looks like this: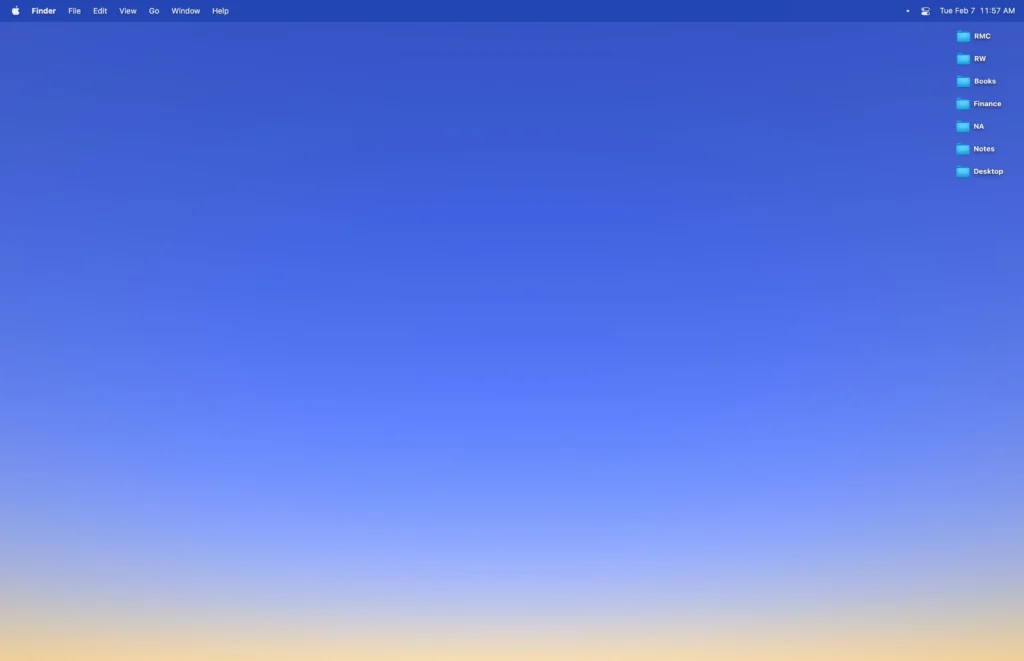 I also recently majorly downsized my dock from about 30 apps down to just 13.

But even after that, there was one major issue.
The cluttered menu bar at the top of my screen…

Then someone told me about Bartender 4 for Mac.
My menu bar now looks like this:

When I click on the dot, the menu expands like this:

Problem solved.
​Bartender for Mac is $16 (with a one month free trial).
Totally worth it for me.
---
Since we're talking about computer stuff, I wanted to share an update.
​Last October, I told you about how I was experimenting with a new web browser call ARC.​
That email came out 2 days after I downloaded ARC.
I am pleased to report that as of today, I'm ALL IN.
Deleted Safari, Chrome, and Firefox.
Never going back.
What do I love about ARC?
The interface is designed for focused, productive browsing. The best solution for tab overload I've seen.
Spaces for different areas of your life. I have one for personal, one for Work Less, and one for my agency RMC.
The quality of life improvements are genius. Pinned tabs, easy split screen views, mini-player picture-in-picture video while browsing, and so much more.
It takes a bit of getting used to, but Arc just works better.
Want to see more? Check out some of their demos on YouTube.​
If you want to try it for yourself, you have to get on the waitlist here.
FYI – It took me 20 days to get an invite in October, but I think the waitlist is shorter now.
---
🏃‍♀️ 5. A Database Of Simple Tools To Improve Health & Performance – Everyday Athlete
This awesome resource was created by a former pro rugby player, Aussie, and Work Less Wednesday reader, Matt Hood.
​Everyday Athlete is a collection of tools, ideas, hacks, and tricks to improve your performance in life.
The tips are short & actionable, and they're not your typical health hacks you've seen 1,000x before.
Some of my favorites:
🥜 Nut butter for better sleep​
👃 The power of nose breathing​
It's a great resource, you can check it out here!​