WLW #63
🗓️ 1. Rich's Highlights From 2022
I spent the first week of 2023 SUPER sick. 😷
So I didn't had a chance to do a deep dive on my year like I usually do.
What I was able to do, was put together a quick highlight reel of what I did in 2022.
Read on to learn more…
🏦 Work Highlights
📬 Work Less Wednesday grew from 578 to 13,237 subscribers! You can read my reflections on that journey here.

💌 I sent out Work Less Wednesday EVERY WEEK all year – 52 issues!
🏖️ I enrolled 83 amazing students in the first two Cohorts of 🏖️How To Work Less, netting $80,000+ (And welcomed another 77 in Cohort 3 in January! My first six-figure launch!).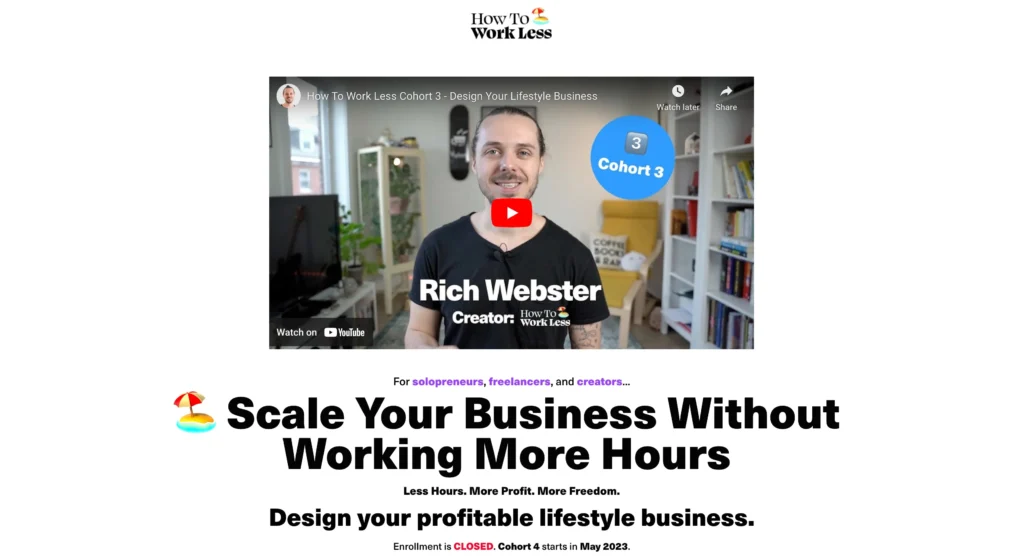 📸 My Instagram grew from 10,100 followers to 104,000 (I posted nearly every day). You can read my thoughts on IG growth here.

🐦 My Twitter grew from 300 followers to 6,817 (follow me!)

🎨 I designed and launched my website, howtoworkless.com.
📜 I wrote and published the Work Less Manifesto.
📝 Wrote an article called "Good Things Come In Threes" for Field Notes.
🧑‍🏫 Created a 10 lesson mini-course called "Productivity For Creatives" for the Continuum app.
👥 Expanded my Work Less team – bringing on a Course Manager & Social Manager.
🏢 I continued to run my $500k+ design business, Richard Media Company.
⏰ And, in that one year period, I worked a total of 1,207 hours (JUST ~3 hours and 35 minutes a day.) Including only 7.6 hours a week on my agency. 🤯
I'm most proud of the last one.
I hope this breaks some limiting beliefs about how much time you need to work.
You DON'T have to work 80 hour weeks in order to be successful.
You CAN run a six-figure company of one in less than 20 hours a week.
✨ Personal Highlights
The WHOLE POINT of creating a lifestyle business is to free up your time to do the things you love. Here's what I did with my free time:
🧮 I turned 33. You can read more about some lessons I learned this year here.​
✈️ I took 6 full weeks off – 3 in the Bahamas, 1 in Asheville, 1 in Paris, and 1 in other spots around the US.
👶 I met my niece Willa for the first time.
⚾ I watched the Phillies make the World Series in person!
🎵 I attended 8 concerts (BADBADNOTGOOD, Bright Eyes 2x, Pinegrove, Phish 2x, Van Morrison)
👨‍🎨 I went to 7 museum trips (Glenstone, Philadelphia Museum of Art x3, Musee Dorsy, Musee De Cluny, Dali Museum)
📚 My Top 5 Nonfiction Books Of 2022
This year I read 33 books. These were my top 5 in nonfiction:
​Fix This Next – Mike Michalowicz​
​The Psychology of Money – Morgan Housel​
​Building A StoryBrand – Donald Miller​
​Fierce Intimacy – Terry Real​
​Expert Secrets – Russel Brunson​
🎬 My 5 Fav Creators of 2022
These are the 5 content creators that inspired, educated, and entertained me the most in 2022.
​Chris Do​
​Dan Koe​
📱 5 Apps I Used The Most in 2022
​Notion – I run my entire business in Notion.
​Arc – My new favorite web browser. I'm done with Chrome & Safari.
​Boomerang – I use it to pause my inbox so I don't check email all day long.
​Tweet Hunter – The BEST Twitter scheduler & content inspiration generator.
​Circle – I teach How To Work Less through Circle. It's great.
🕹️ 5 Hobbies I Got Into This Year
Sauna – Finally bought an infrared sauna and installed it in my basement. Can't get enough.
​Phish – The greatest band touring. After seeing them live 2x in the summer, I went down the rabbit hole hard. I've got plans for a lot of shows in 2023.
LEGO – If you're looking for a relaxing hobby, may I suggest building LEGO? I really enjoyed building the Taj Mahal & this Mario block.
Guitar – Got back into playing guitar and picked up a PRS Hollowbody.
Barefoot Shoes – Experimenting with minimal footwear and got a pair of VIVO barefoot shoes which I'm loving.
That's it! Hope you enjoyed and you have a great 2023!
---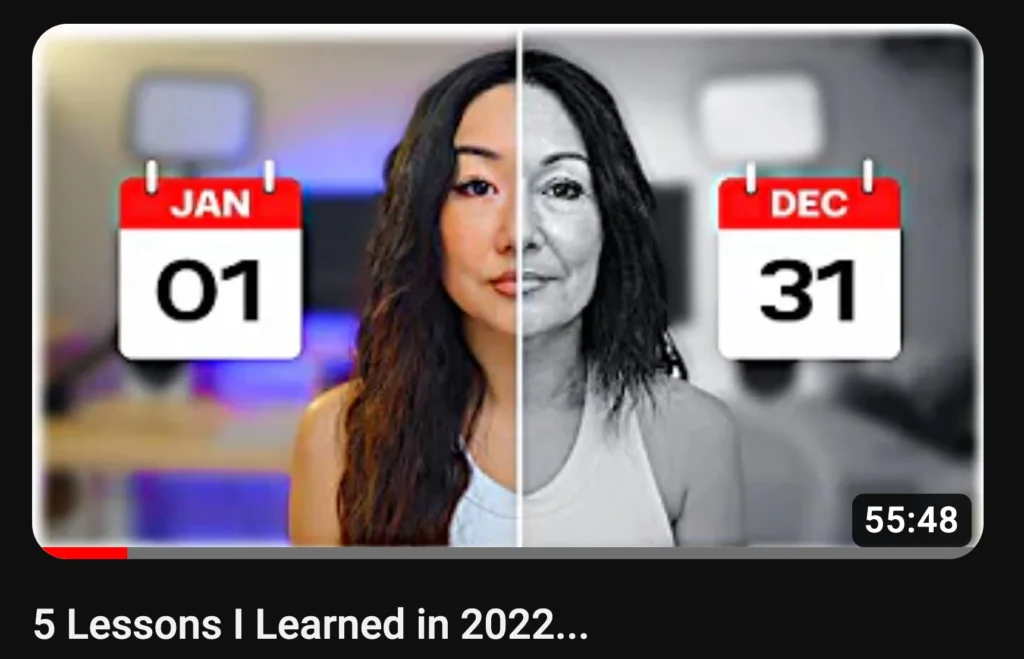 Entrepreneur, Course Creator, & YouTuber Vanessa Lau had a rough 2022.
She went from earning $2.5 million in 2021 (50-60% profit), to $1.8 million in 2022 (40% profit).
That's a big drop.
What happens when a 7-figure business doesn't hit it's goals?
Usually no one talks about it.
What I love about Vanessa, is she does the opposite.
Not only is she OK with it, she's sharing how it happened.
​This video breaks down the 5 lessons she learned in 2022.​
Totally worth a watch.
My key takeaway from the 60 minute video: Simplicity = Success
Vanessa started the year out with some wildly unprofitable months.
She lost between $10-30k a month in Q1.
The cause?
Too much complexity.
She had 20 people on her team ($75k of overhead).
She hired 3 consultants for $25k/mo.
At one point she literally had double of every position: Two Project Mangers, Two Community Managers, Two Assistants, etc.
All this complexity for what is actually not a complex business.
Her business is just:
1 Course
1 Youtube Channel
1 Instagram Page
Vanessa thought that a bigger team = more money.
In reality, bigger often just means more complex.
The solution – simplify.
When she downsized her team and simplified operations, something magic happened.
Less stress.
Less complexity.
More profits.
There's a lesson in there.
---
😵 3. How I Finally Removed My Instagram Impersonators – Twomarkup
If you follow me on Instagram, you probably know I've been dealing with fake/scam accounts impersonating me for over a year now.
It seems like every week a new account pops up with my picture and posts.
What's worse?
They then message my followers and try to trick them into investing in a crypto or forex scam of some kind.
I would get messages constantly from concerned followers – telling me that my account was hacked or someone was impersonating me.
I've tried everything to fix it – reporting to Instagram, blocking them, and eventually…
I just gave up.
Thought it was the cost of doing business.
Until last week.
I met Ayuub on Twitter, and he told me about his company Twomarkup.
He was able to remove ALL of my impersonators in under 45 minutes.
My mind was blown.
A problem I spent countless hours dealing with over the last year, solved in an hour.
If you have this issue too, I highly recommend checking out Twomarkup.com.
They remove Instagram and TikTok impersonators in less than 7 days, and they don't get paid until the job is done!
---
💰 4. Finance Tool We're Experimenting With For 2023 – Copilot
One of my household goals for 2023 is to overhaul our budget systems.
It's time to transition from my trusty budget Google Doc to a more formal and automated system.
You'd be shocked at how manual our system is now.
Definitely not "Work Less" approved. 😜
So I'm trying out Copilot for the first experiment.
It looks pretty cool.
What we need in a budget app:
Automated budget tracking from multiple accounts
Ability to set goals
Tracking net worth
Have you had any success with finance apps?
What do you recommend?
---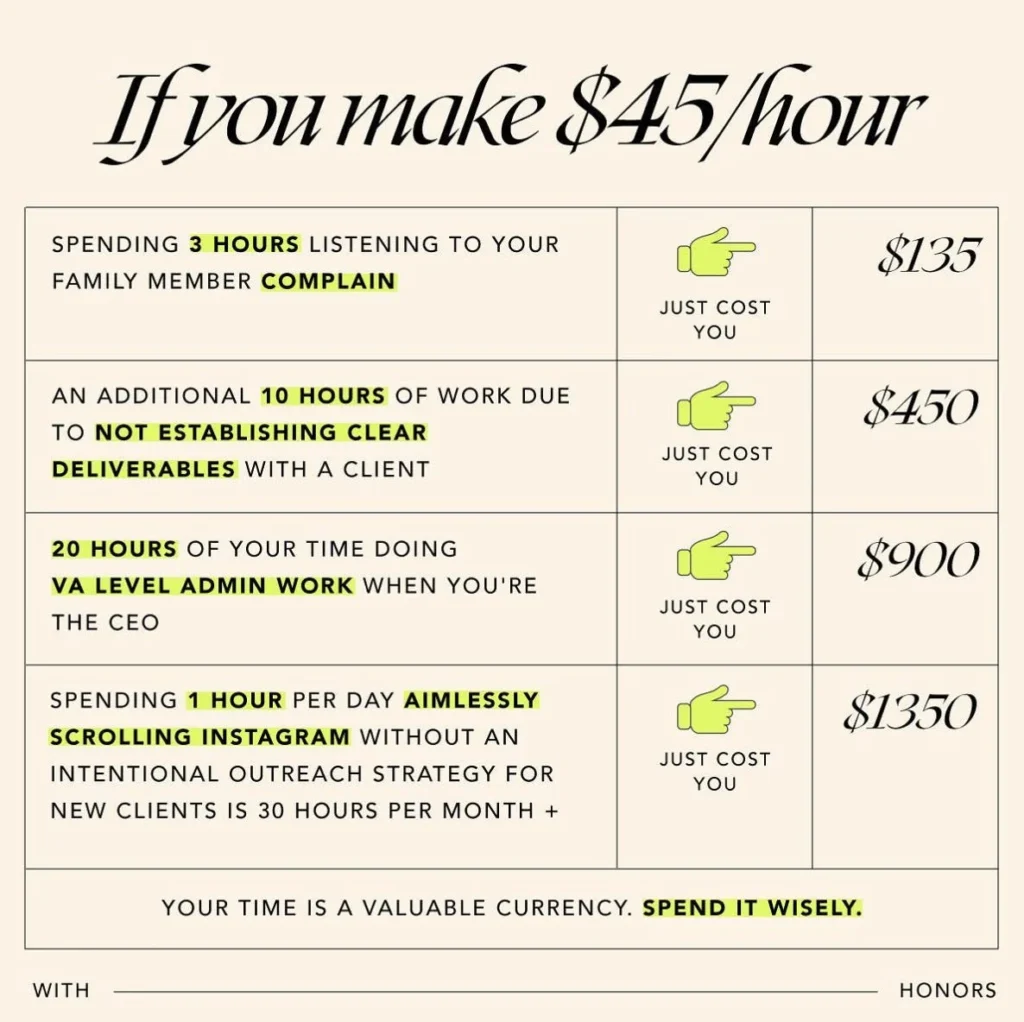 Love this graphic from With Honors.
Remember:
Your time is valuable.
It is up to you to spend it well.
Subscribe To Work Less Wednesday