WLW Year 1 Highlights
In celebration of the one year anniversary of Work Less Wednesday, I've pulled out 24 of my favorite stories of the last year for you!
---
Oatly – it's everywhere. It's cool.
It's got to be good for you, right?
Turns out, Oatly is basically canola oil sugar water.
Or as @keccers on Twitter put it: "I'm still in awe that Oatly created super sugar grain juice, cut it with canola oil, and then successfully used (amazing) marketing to convince everyone that no, this is good."
---
📊 A Simple Chart I'm Loving – Should You Take On A New Project?
​Source: This article by RadReads.
---
ConvertKit has a pretty crazy paid time off policy.
They pay you $1,000 to take the week off.
But there's a catch.
In order to collect the money you need to satisfy two conditions: you are not allowed to log onto Slack or check your email.
Companies are finally understanding the tremendous long-term value of unplugging.
No more "work-cations."
---
I'm captivated. Financial guru Ramit Sethi brings on couples who have financial issues to discuss their habits, emotions, and relationship with money. It's raw, real, and relatable – like sitting in on a couple's therapy session.
One example episode: Charles and his wife, Michelle, are worth $10 million, and he earns over $2 million a year–but he's cheap. So cheap, he still insists on sharing someone else's Netflix password.
Other Recommended Episodes:
Episode 19. "My husband has been promising that we'll buy a house in a few months… for five years"​
Episode 16. "We're worth $8 million but I comparison shop for strawberries"
---
"Here's the secret sauce to digital writing:
Kill the paragraph.
Nobody reads an entire article, start-to-finish, on the internet. It just doesn't happen.
People DO skim and scan.
Use clear headlines, give each sentence its own line, and don't use big words.
This sounds too simplistic, but trust me.
Write this way for a month and come back to me and report the results."
---
If you're like me, the to-do list in your brain is miles long.
But how do we decide what to actually do?
​Read my article on The Rule of Three to learn how to prioritize and focus every day.
---
🎤 If You Only Listen To One Health Podcast… – Listen To Huberman Lab
One of my pre-productivity obsessions was health and wellness.
Still kinda is lol.
If you can only listen to one health podcast, make it this one.
​The episodes are also on YouTube. Some of my fav. episodes:
Master Your Sleep & Be More Alert When Awake​
How To Focus To Change Your Brain​
Tools For Managing Stress & Anxiety​
P.S. If you're really trying to get in deep, The Drive w/ Dr. Peter Attia is also incredible. But it is not for the casual listener.
---
🛍 If You Made $750k Would You Still Go To The Grocery Store? – The Greatest Paradox Of Wealth
I talk a lot about spending money to buy time.
It starts with the story of a man making $750,000 a year, who still goes shopping at the grocery store.
There's nothing wrong with that, but this man's biggest complaint in his life is: "I'm so busy."
Now that is a problem.
---
✈️ The One Thing I Never Step On An Airplane Without – Foot Rubz Foot Massage Ball
This tiny $10 massage ball is the truth.
It uses acupressure to relax muscles, reduce tension, and increase circulation.
It's especially helpful for long cross-country flights.
If this thing isn't in my bag when we travel, I'm not a happy camper.
---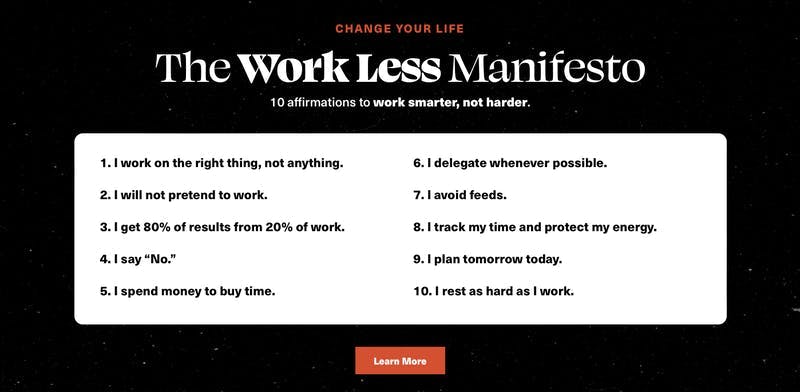 The Work Less Manifesto is my philosophy of what it means to work smarter, not harder.
It's 10 affirmations that define what it means to life a Work Less Life.
I've been working on this for the last 6 months and am really excited to finally share it with you!
You'll be hearing me talk about these principles a lot more in the coming weeks.
​Click here to read the full Manifesto! Look forward to your feedback on this!
---
Was digging through my YouTube favorites, and this video popped up.
My business coach Chris Do posted this in 2020.
The concepts he teaches in the video changed my business forever.
If you have two hours, it's worth the watch.
---
This "Contact" page from startup founder Levels.io is really a "Don't Contact Me" page.
The whole thing is worth a read, but I loved his "What I'm not interested in" section (reminds me of my "Not To Do List").
What I'm not interested in:​
I'm not interested in collaborating, I like to work alone. Or with people I hire. If I hire people I find you, you don't need to message me.
​I'm not interested in doing client work for other people, I never did, and my goal was to never have a boss and I'm difficult to work with anyway, and I make enough money so I don't need to.
​I'm not interested in fixing your printer or WiFi router.​I'm not at all interested in doing calls, or podcasts, or joining Clubhouse rooms.​I'm not interested in traveling to places to do conference talks or workshops for 300 people when I literally reach 1,000x to 10,000x as many people by building a new product or feature, by writing a tweet or blog or by making a YouTube video. It's not worth the effort.​
But what about meeting people and making new friends? I already have a close knit group of friends that have my back.
---
This article the blueprint to designing a business that doesn't include you in it.
If you're trying to work less, you need to read it. Then bookmark it.
This was recommended by Vanessa Liu, who got the recommendation from Neil Patel.
---
What happens when a 7-figure business has a big failure?
Usually no one talks about it.
They pretend everything is still amazing on social media and brush it under the rug.
One of my favorite creators, Vanessa Lau, took the opposite approach.
She wrote a up detailed and brutally honest business recap of her rough Q1 2022, which features:
A failed course launch
Hiring expensive consultants who didn't deliver
Profits dropping from 50% down to 13%
Overhiring and then downsizing her team
A lot of powerful lessons shared, I encourage you to read it here.
---
For your deep work playlist this week, may I recommend this album?
---
📸 I Took Out An Insurance Policy On My Instagram Account – Notch Insurance
I've heard countless horror stories of creators getting their accounts hacked.
The worst part?
Many of them never get the account back and have to start from scratch.
As my Instagram account has grown to over 80,000 followers, that is a real concern.
Enter Notch.
I joined the waitlist for Notch last year, and they finally opened up policies for my state.
I now have a $40,000 insurance policy for my IG account.
If I'm ever hacked, Notch's crisis team takes over to get the account back online as fast as possible (and I get paid while it's offline).
Right now Notch only offers Instagram account insurance, but is expanding to YouTube, TikTok, and Twitter soon.
I believe insurance for digital assets will become just as common as home or car insurance within the next 5-10 years.
(BTW – Not an ad. I really signed up for Notch this week.)
---
🎬 IG Live with Chris Do (Replay) – Watch Here
Went for 110 minutes on IG Live with my business coach and mentor, Chris Do.
We talked about some of my unorthodox business philosophies:
No proposals
No posting work on social media
No submitting work for awards
We also went down the rabbit hole on:
Handling client objections
Using "Super Connectors" to get clients
The value of lifestyle businesses
ICYMI: Here's the replay.
---
🐦 The Best Definition of Productivity I've Ever Seen – Tweet by @kpaxs
Productivity isn't about doing more things.
It's about doing the right things.
---
📧 Why I Lose $2,876 A Month Sending Out This Free Newsletter
Few understand the costs associated with running a free newsletter.
It's free for you, not for me.
I was inspired by this Twitter post from Marissa Goldberg to take a look at the costs I incur by creating WLW.
My direct newsletter expenses:
(I also incur a lot of indirect expenses related to my biz: website hosting, subscriptions, etc. – not listed here)
​ConvertKit: $110/month
Newsletter hosting.
​Notion: $16/month
Newsletter writing and management.
Team Costs: $250/month
My team uploads WLW to ConvertKit, posts WLW reminders on Instagram, and uploads the archive to my website.
My Time: $2,500/month
According to my time tracking, I spend about 5 hours a month writing WLW. I sell an hour of my time for $500.
= $2,876/month
So why do I spend nearly $35,000 a year to email you?
Remove Platform Risk – I don't own my 90,000 Instagram followers. Instagram does. If they want to stop showing my posts, they can. That's scary. If I could bring all 90,000 of you over to Work Less Wednesday, I would. I'm trying.
Build Connections – I've met some amazing people through this newsletter. A welcome surprise.
Sell Stuff – I want you to take my course (How To Work Less Cohort II enrollment open August 29th). I want to work with you 1:1 (Book business coaching here). I want you to buy my book (When I write it )
---
🤨 The Different Between Busy & Non-Busy People – Article by Joshua Becker
When someone asks you, "how are you feeling," do you respond, "busy"?
First of all – "busy" isn't a feeling.
Overwhelmed, stressed, scattered, distracted, guilty, frustrated, tired.
Now THOSE are feelings.
This article breaks down the differences between "busy" and "non-busy" people.
I think they're pretty spot on:
Unbusy people know their purpose – They know their goals, what they want to pursue, and how they want to live.
Unbusy people say no to things that don't align with their mission – They say no the urgent requests, the popular requests, and the countless opportunities in front of us each day.
Unbusy people know they have choice in life – Busyness is a decision we make. We are never forced into a lifestyle of busyness.
Unbusy people don't get distracted by unfulfilling pursuits – The sooner we recognize the pursuit of more will never fully satisfy, the easier it is to unbusy our lives.
Unbusy people value the significance of rest – Rest is essential to our bodies, our minds, and our souls.
---
📚 Massive (FREE) Guide To Launch, Run, And Scale An Online Course – Course Creator Lab
This may surprise you, but after the last cohort of How To Work Less, I spent thousands to hire online course experts to help me improve the course.
Why? I want it to be the best course possible.
And I plan do this after EVERY cohort.
This time, I worked with a:
Landing page consultant
Course operations expert
Copywriting consultant
One of my favorite sessions was with Julia Saxena.
She's a copywriter and former project manager who specializes in online courses.
She also has created one of THE BEST free resources online about course operations, Course Creator Lab.
It includes:
Templates (Landing Pages, Content Calendars)
Swipe Files (Course Names, Emails)
Operations Guides (Launch Guide, Job Board)
This is an instant bookmark.
---
I've been thinking a lot about the Locksmith Paradox recently.
It's the idea that the better we get at something hard, the less time it takes us to do it.
Now why is this a problem?
When you're charging by the hour.
My coach said it best: "Charging by the hour punishes you for being good."
Or Paula Scher, who said: *It took me a few seconds to draw it, but it took me 34 years to learn how to draw it in a few seconds."
I'm at the point in my career where I can generate $10,000 worth of design in a couple hours.
No one wants to see a bill with an hourly rate for that.
So what to do instead? There are two steps.
Step 1 – Start pricing by the project. That allows you to remove time from the equation.
Step 2- Learn value pricing. Price based on the value that the client gets from the project. Curious? This video is a great place to start.​
When should you charge by the hour? I can think of two scenarios.
When the scope is really fluid. If you can't estimate how much time something will take or how much work it will take, you could offer hourly pricing. But instead, I'd recommend phase-based pricing, which is breaking down the large project into phases, which are each priced individually.
If you're trading an hour of your time directly. At this point, the only time I charge by the hour is if you want to buy an hour of my time directly, via a coaching call. Even here, I incorporate value-based pricing, since my rate is $500/hr.
---
​If you missed it, I posted a one hour long workshop to my YouTube channel this week.
The reviews so far are pretty good
"Rich you are an actual genius and I cannot thank you enough for sharing your experience."
"One of the best productivity Videos I have ever seen."
What you'll learn:
The Work Less Formula (If you want to work less, you can do one of these TWO things.)
The 3 limiting beliefs you need to unlearn if you want to run a lifestyle business.
The 3 lies society tells us about work and why they're totally wrong.
Why working less hours, is actually more productive.
---
🌐 I Just Ditched Safari For This Amazing Web Browser – Arc by The Browser Company​
I'm not the type of guy to hype up a random app I just downloaded two days ago.
But that's exactly what I'm about to do now.
I just deleted Safari and Chrome from my computer and went all in on Arc, a new web browser.
Arc's goal is to reimagine the browser from the ground up.
What do I love about it?
The interface is designed for focused, productive browsing. The best solution for tab overload I've seen.
Spaces for different areas of your life. I have one for personal, one for Work Less, and one for my agency RMC.
The quality of life improvements are genius. Pinned tabs, easy split screen views, mini-player picture-in-picture video while browsing, and so much more.
It takes a bit of getting used to, but Arc just works better.
Want to see more? Check out some of their demos on YouTube.​
If you want to try it for yourself, you have to get on the waitlist here.
FYI – It took me 20 days to get my invite.
(No special influencer treatment for me lol.)
---
👋 That's all! Want to work together?
When you're ready, here are 4 ways I can help you:
Subscribe To Work Less Wednesday